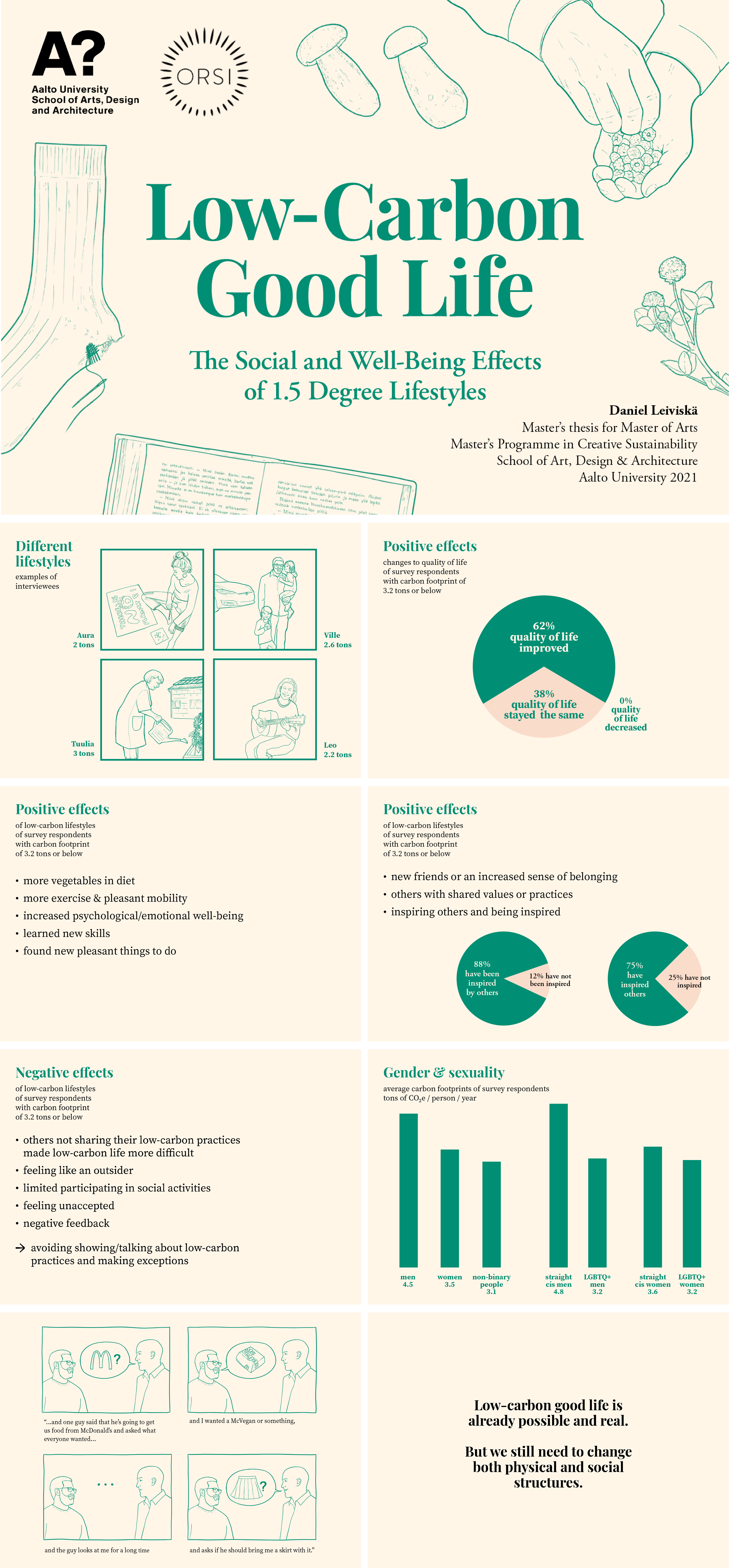 Low-Carbon Good Life
Master's thesis studying the lifestyles of low-carbon forerunners, the social and well-being effects of living low-carbon, and visioning a future with lower emissions and higher well-being. Grade 5/5.
Literature review, survey, interviews, analysis, forecasting, illustrations. For ORSI at Aalto University. 2022.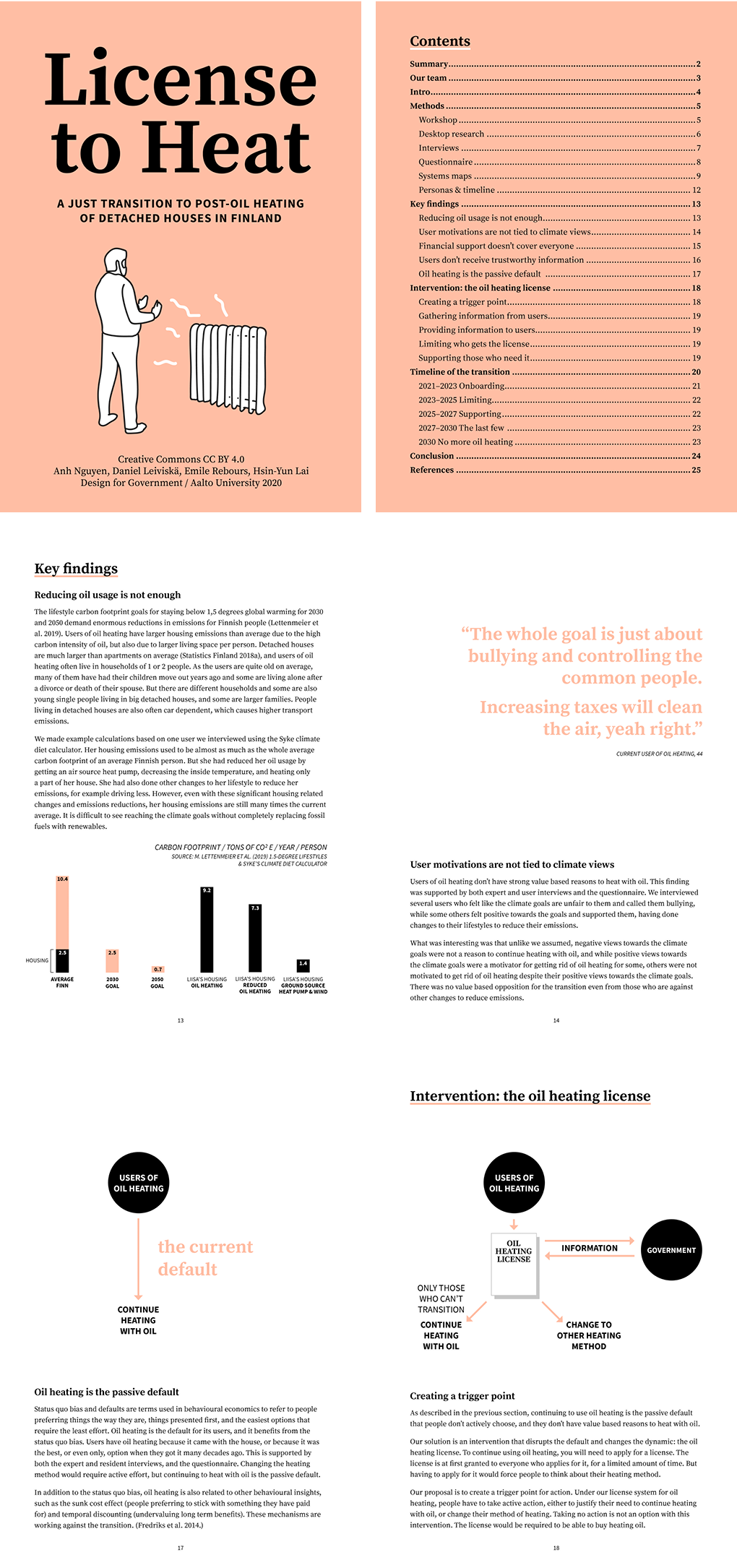 License to Heat
Strategic and emphatic design to transition away from oil heating in a just way.
Group leader, report & presentation layouts, graphs, resident interviews & intervention idea based on behavioural economics. Research & design with team. Cover illustration by Emile Rebours. For the Finnish Ministry of Environment. 2020.
With Emile Rebours, Hsin-Yun Lai & Ahn Nguyen.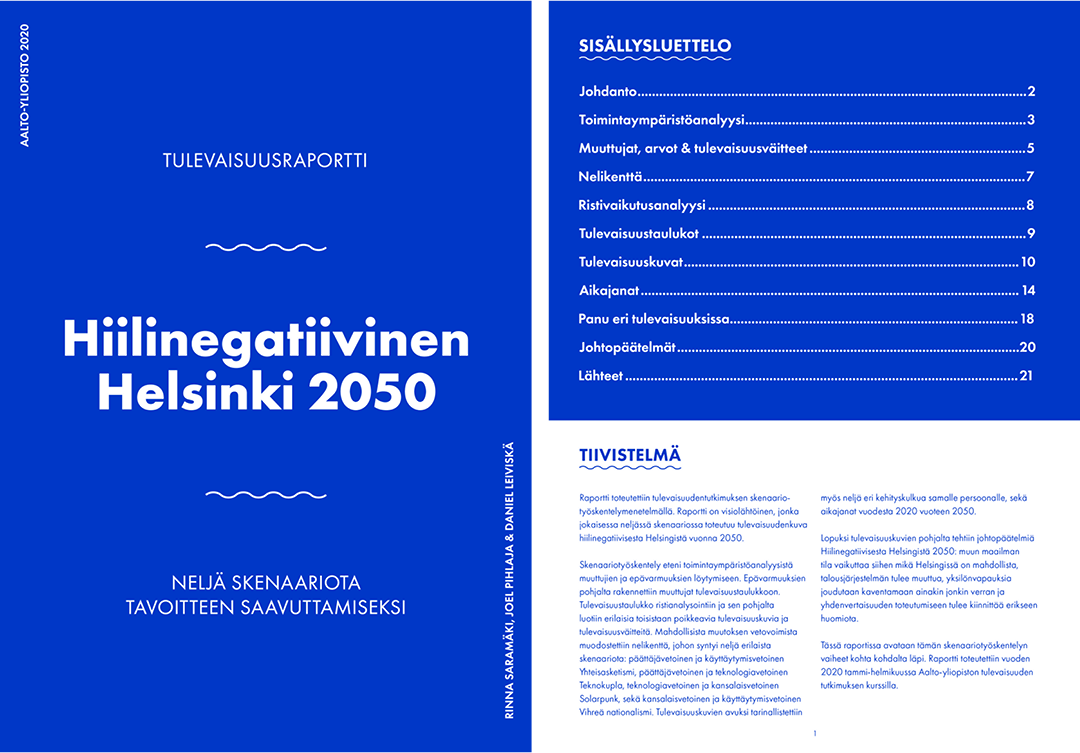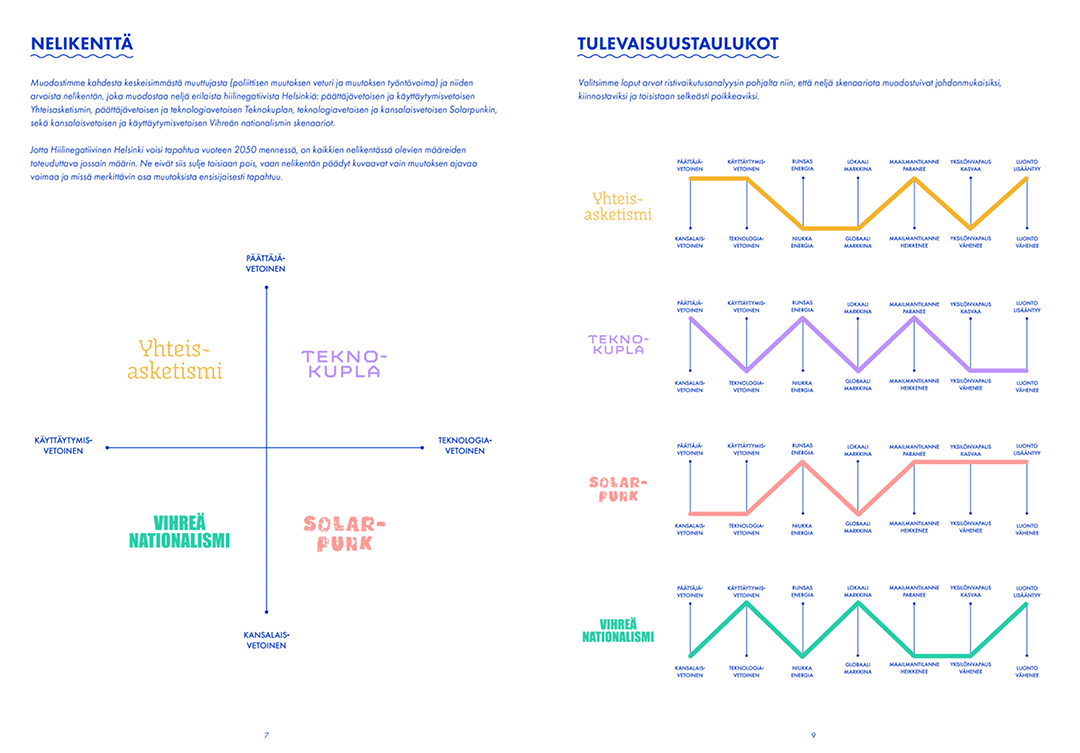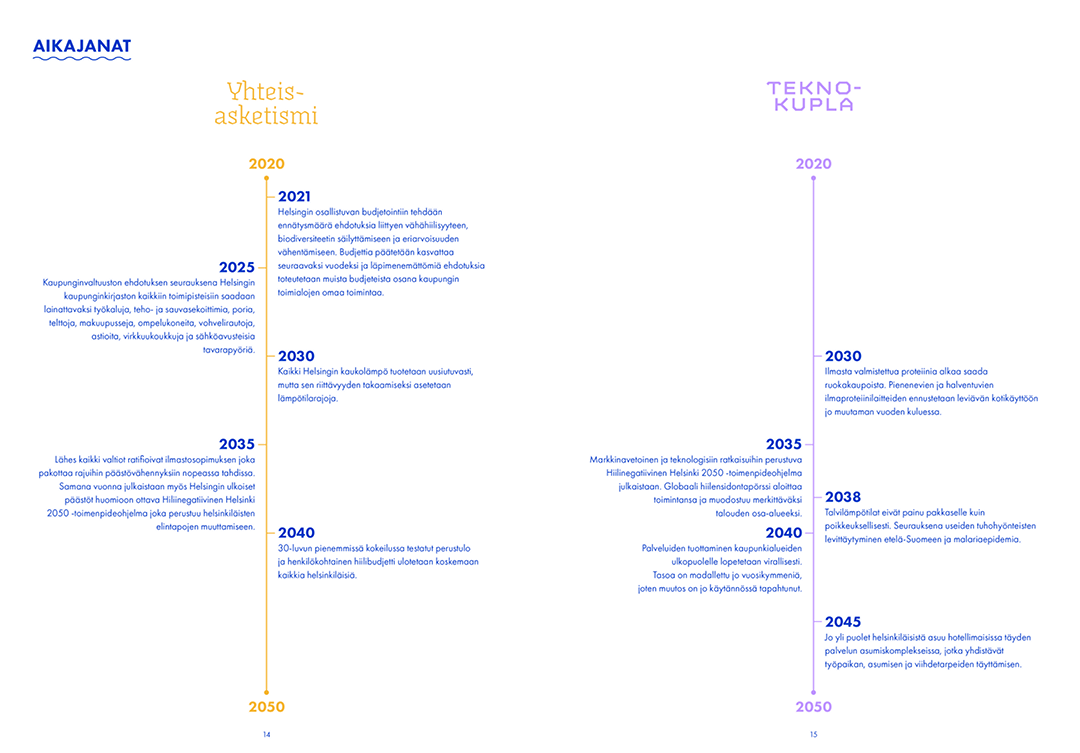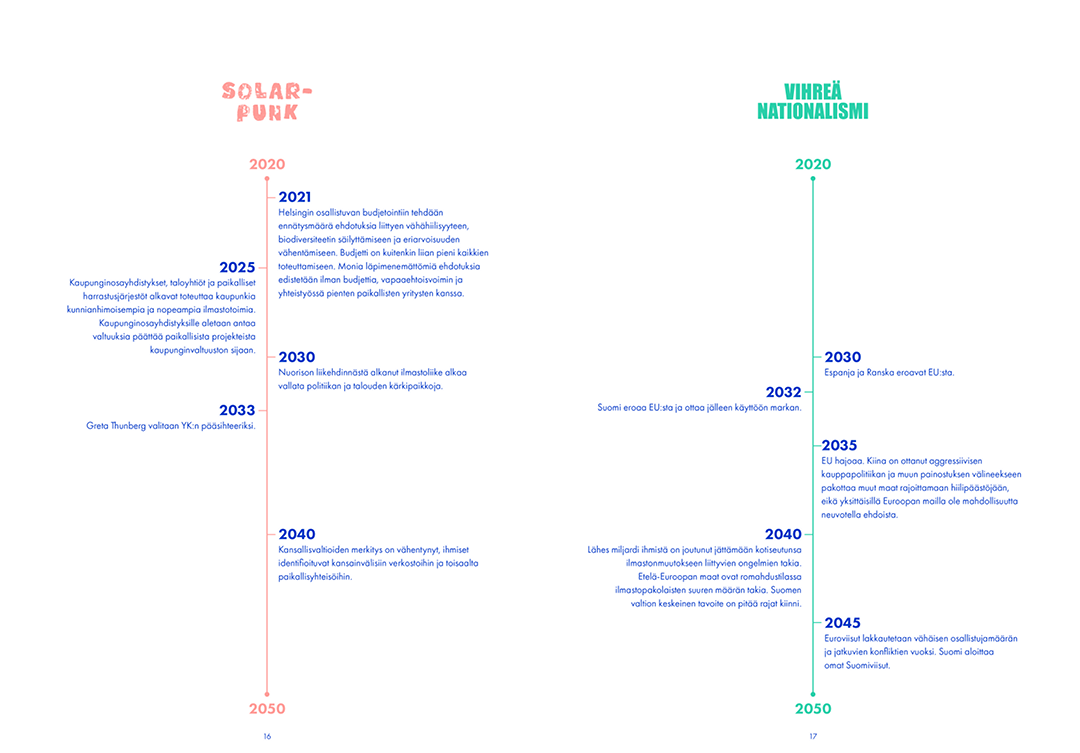 Carbon Negative Helsinki 2050
Future studies scenario work about carbon negative Helsinki, where one of the scenarios was very negative (green nationalism) despite reduced emissions.
Scenario work with team, report layout and infographics. Schoolwork at Aalto University / University of Turku / Finland Futures Research Centre. 2020.
With Rinna Saramäki and Joel Pihlaja.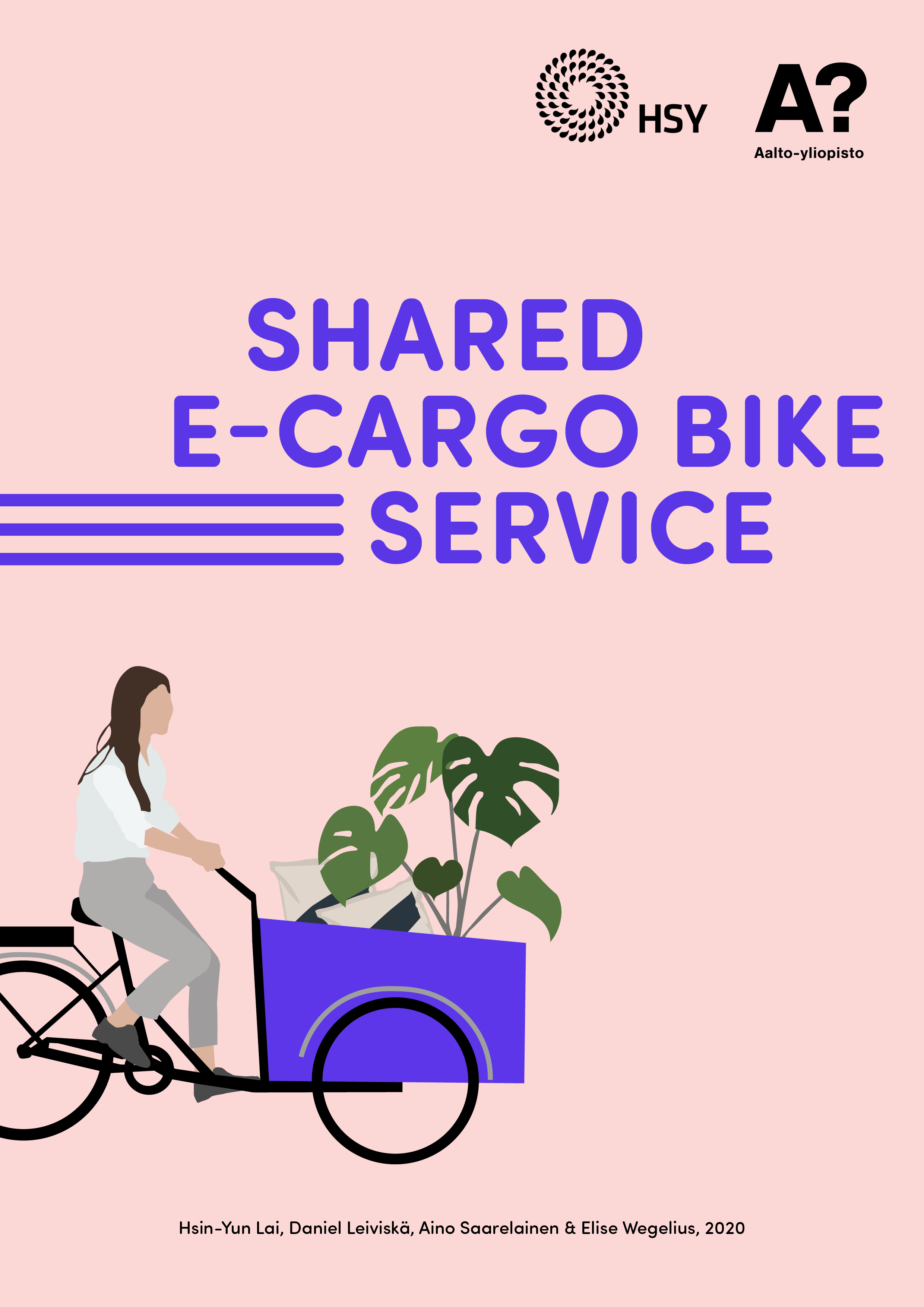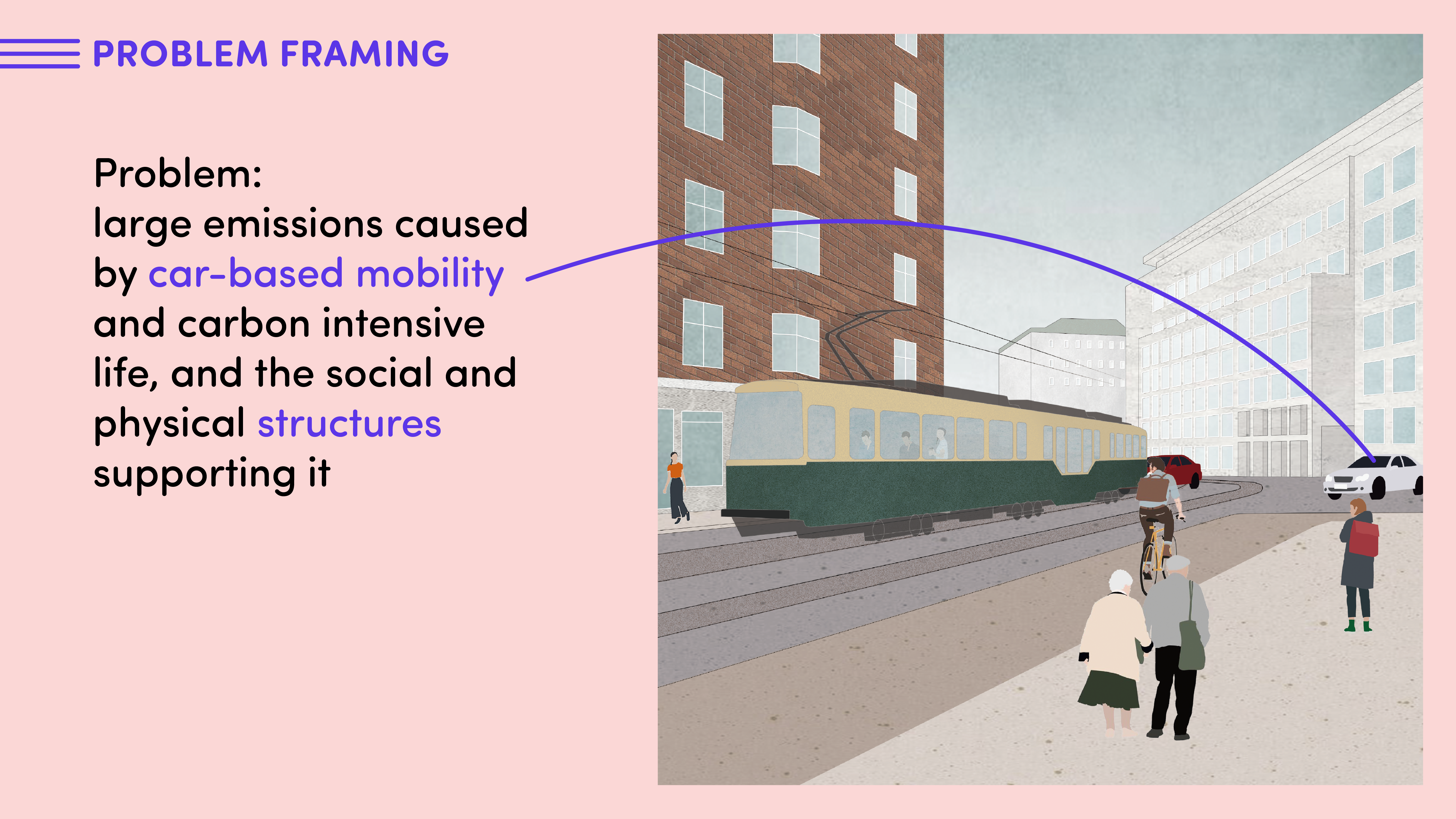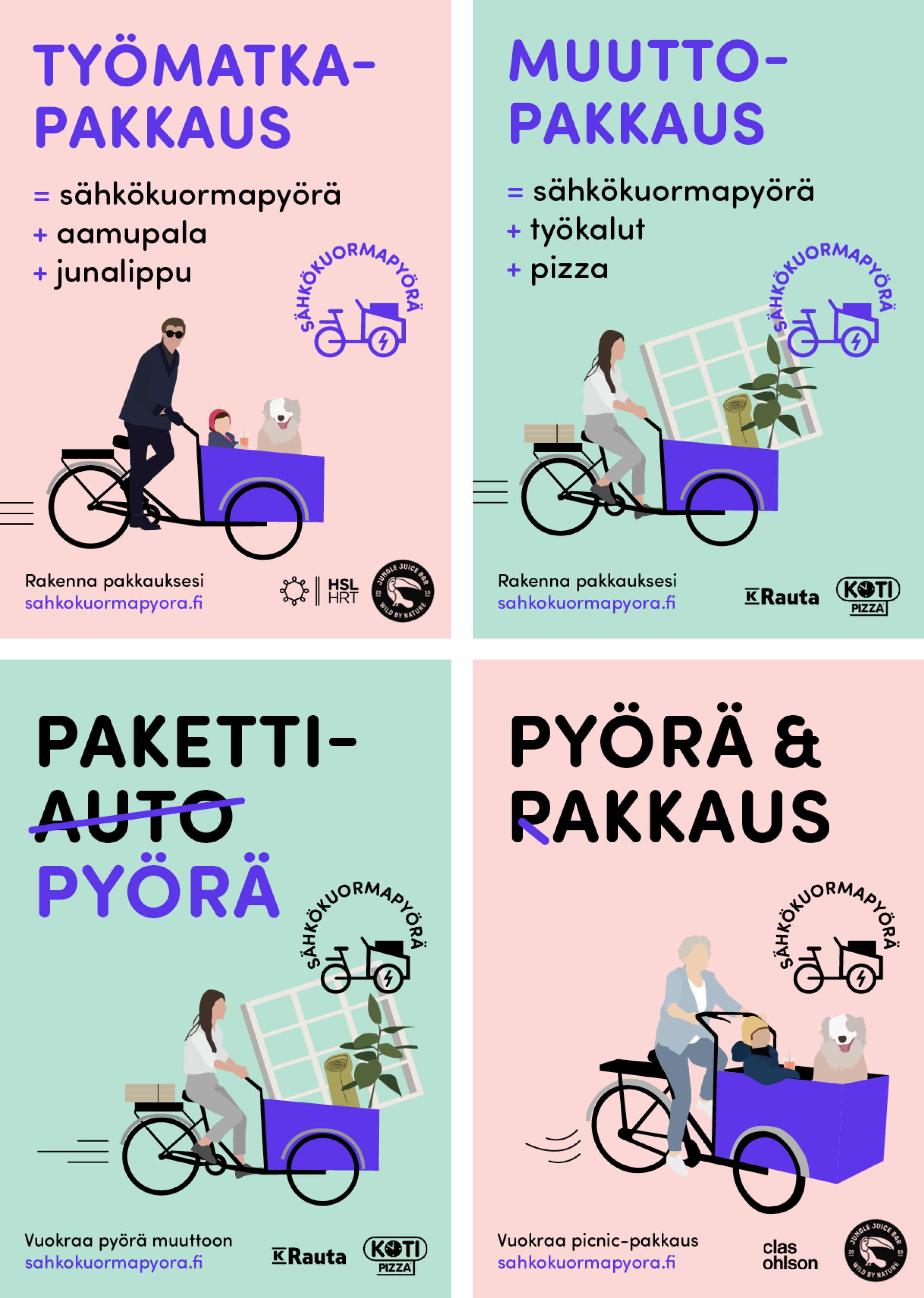 E-cargo bikes
Design of an efficient shared e-cargo bike service concept with peer-to-peer and business delivery, lockers for shared objects encouraging businesses to move towards shared economy activities, user friendly and attractive service packages combining the bikes with shared objects and food, and stations with ad space reserved for ads for sustainable alternatives.
User research, design of concept, user persona scenarios, visual identity, presentation, report and poster layouts. Research and design with team. Illustrations by Hsin-Yun Lai. For HSY. 2021.
With Hsin-Yun Lai, Aino Saarelainen & Elise Wegelius.
Company logos are hypothetical examples of business collaborations.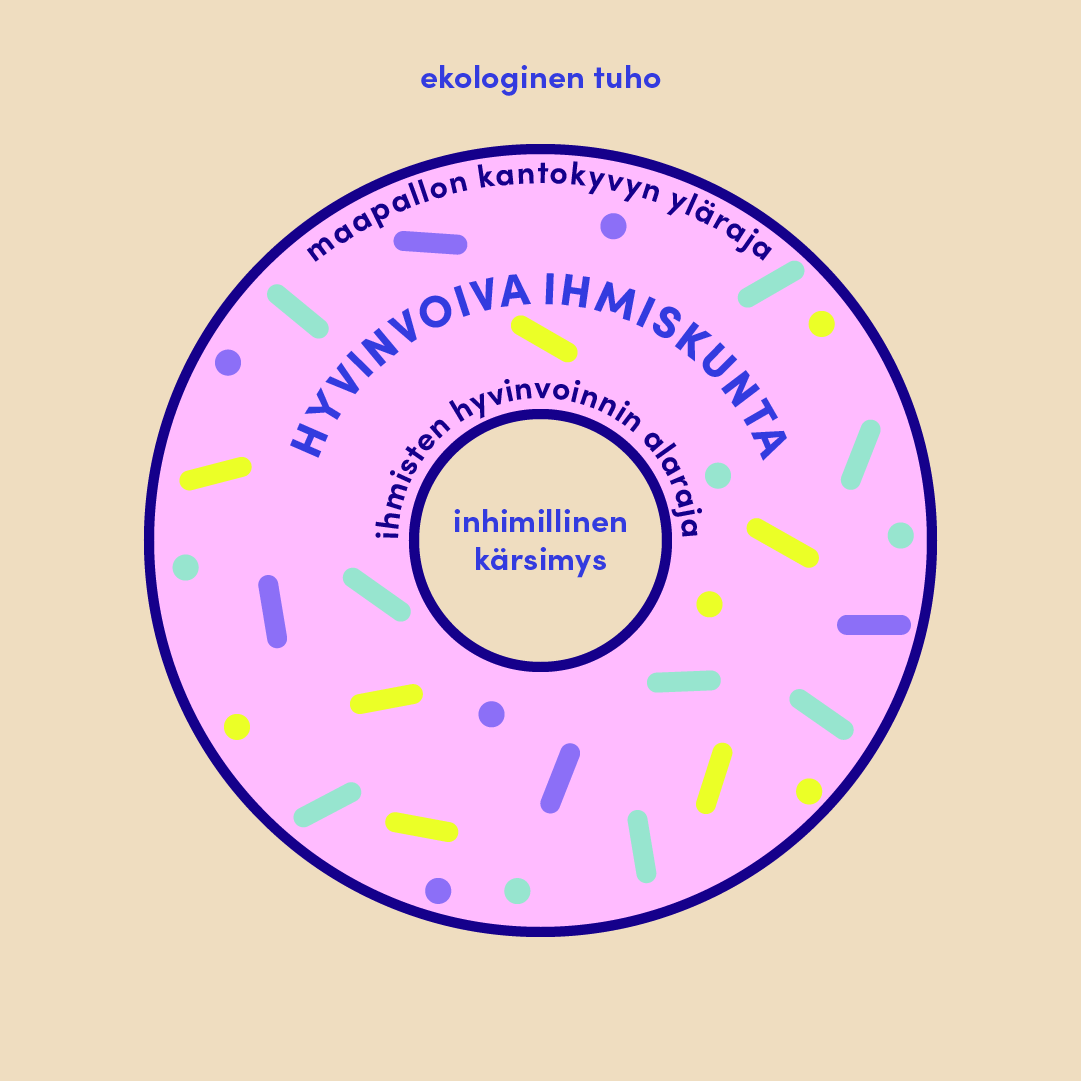 Doughnut model
Graph illustrating the basic idea of Kate Raworth's doughnut model. Translation, design and Instagram post. For Hyvä muoto. 2021.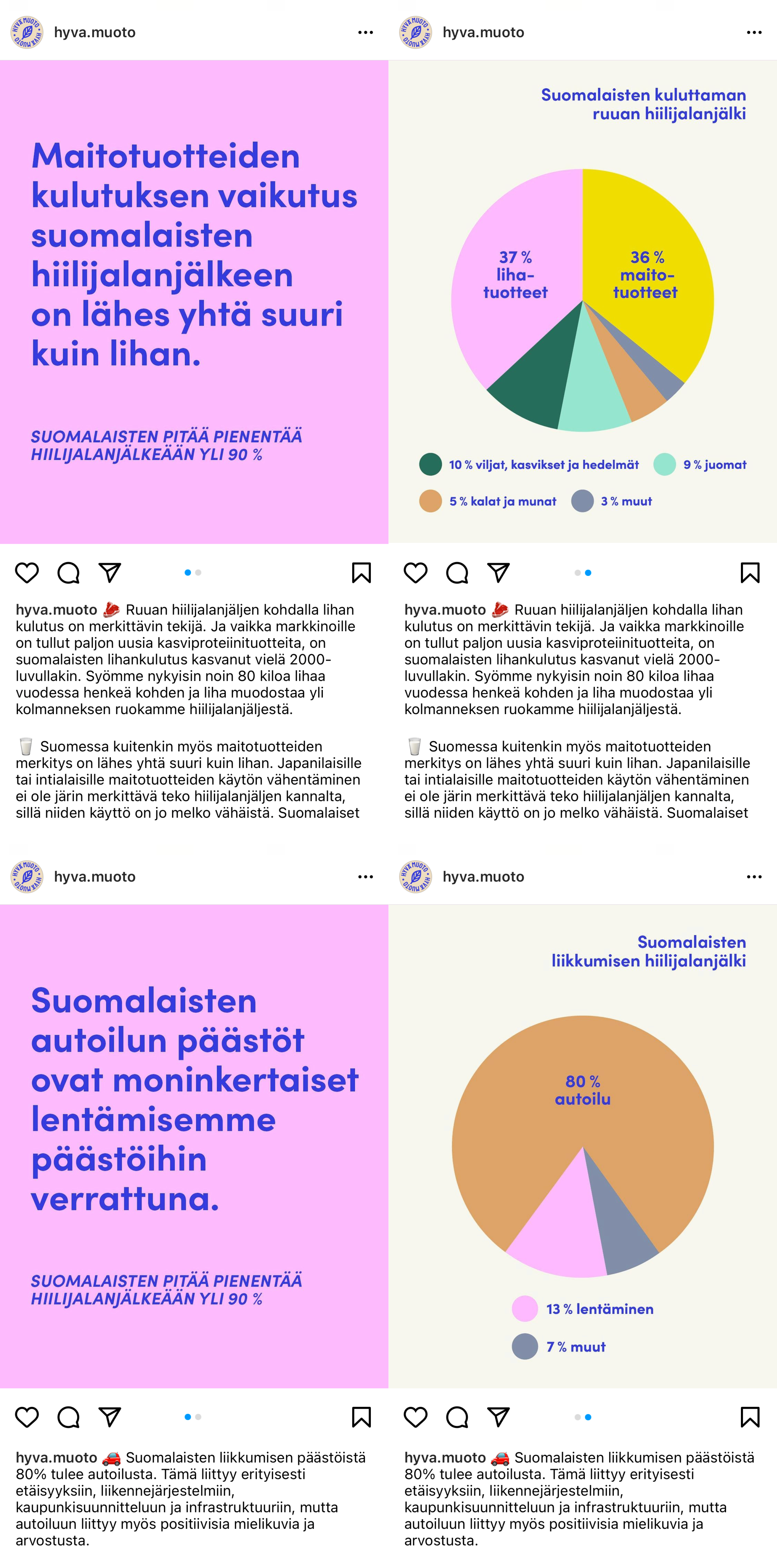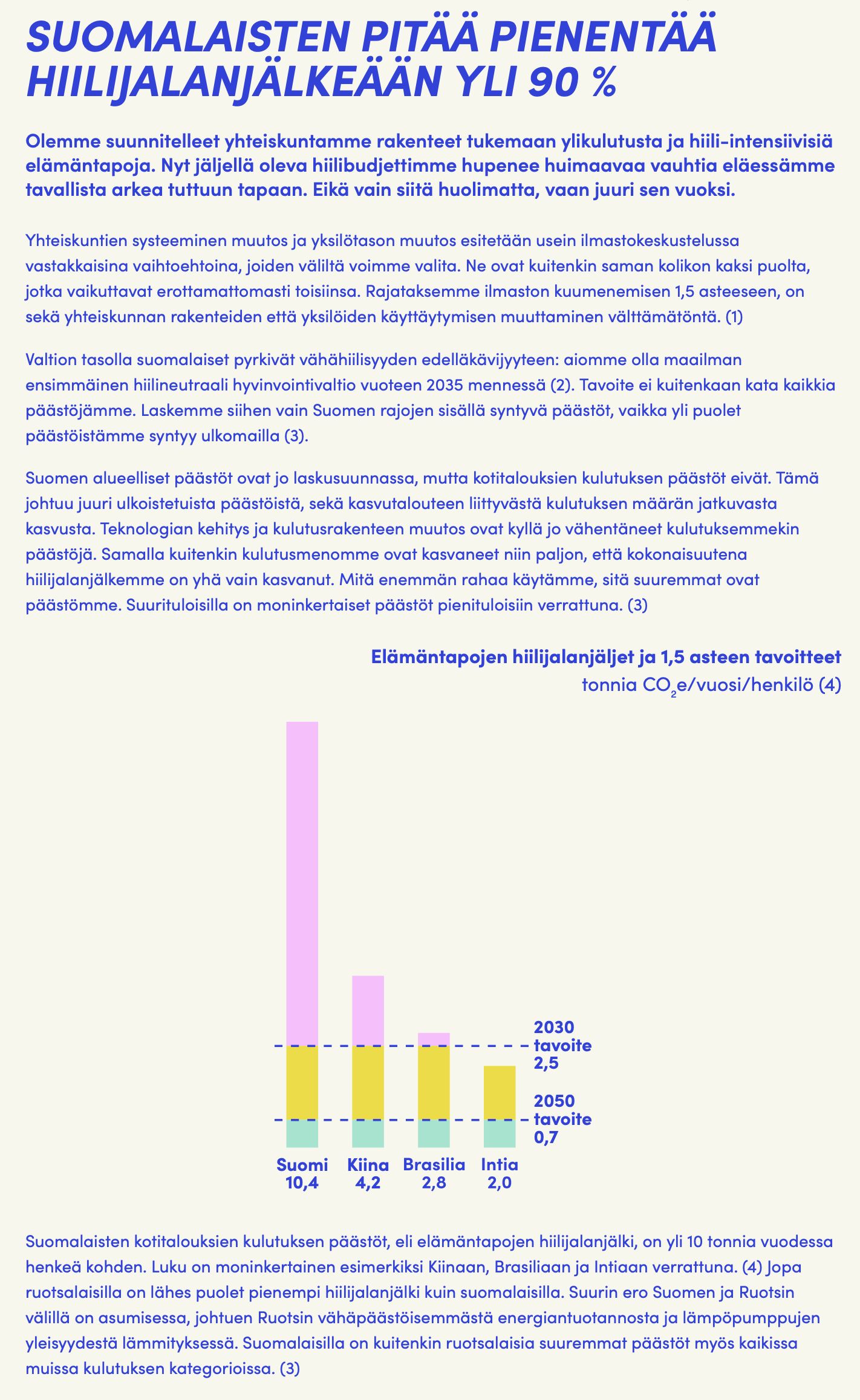 Finns need to reduce their carbon footprint by over 90%
Article, Instagram posts and infographics about Finnish lifestyle emissions. For Hyvä muoto. 2021.
You can read the full article here.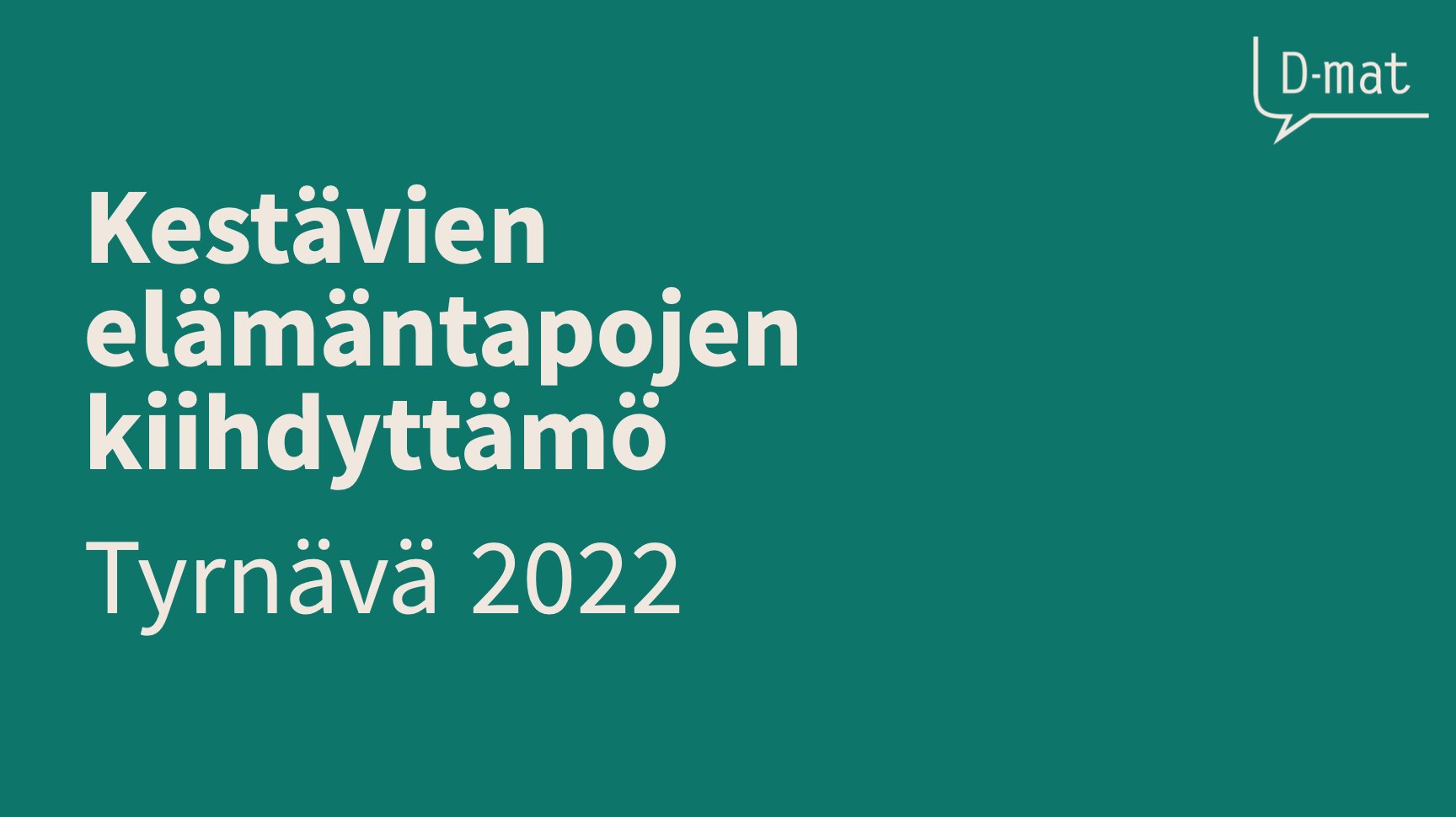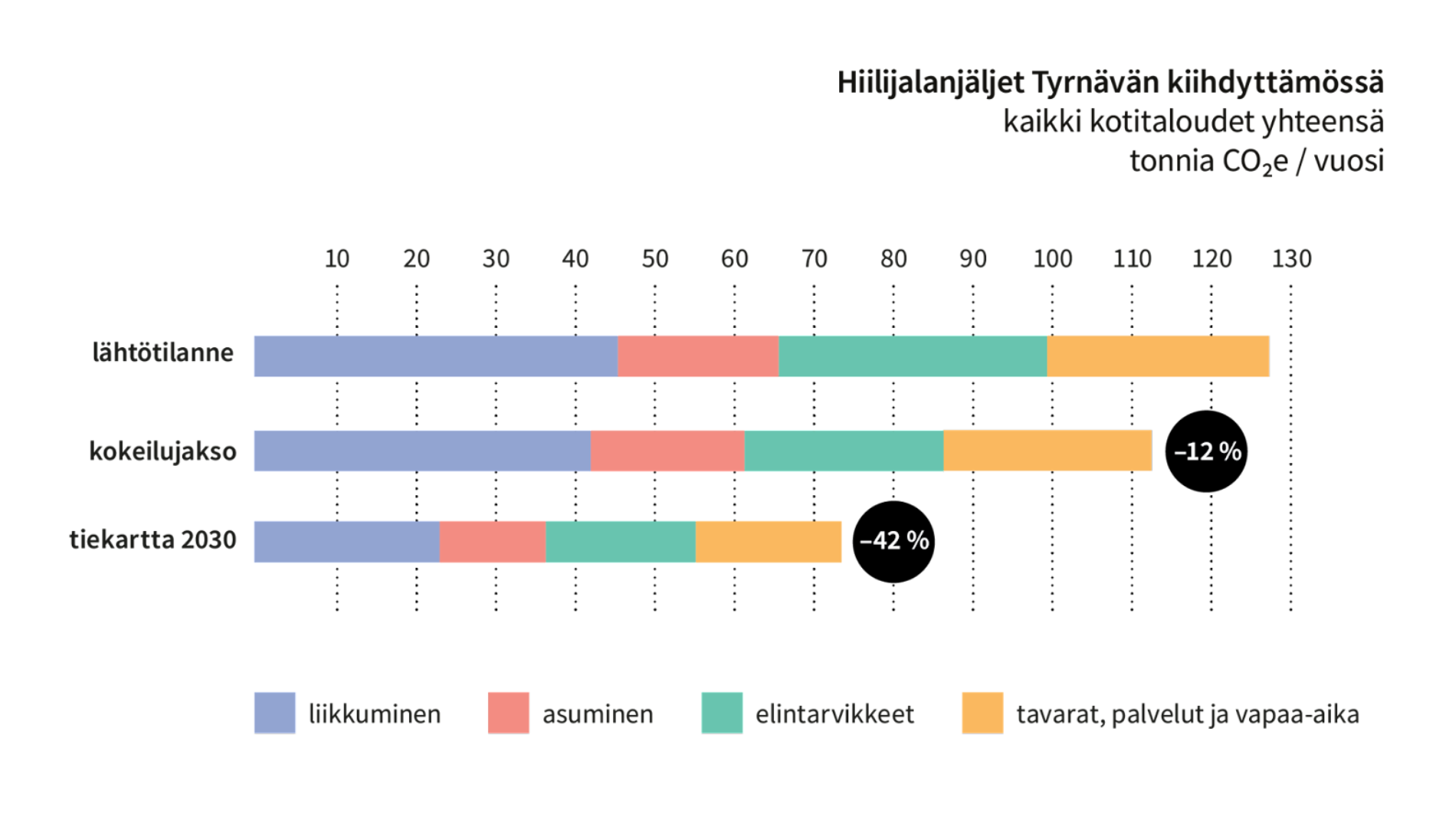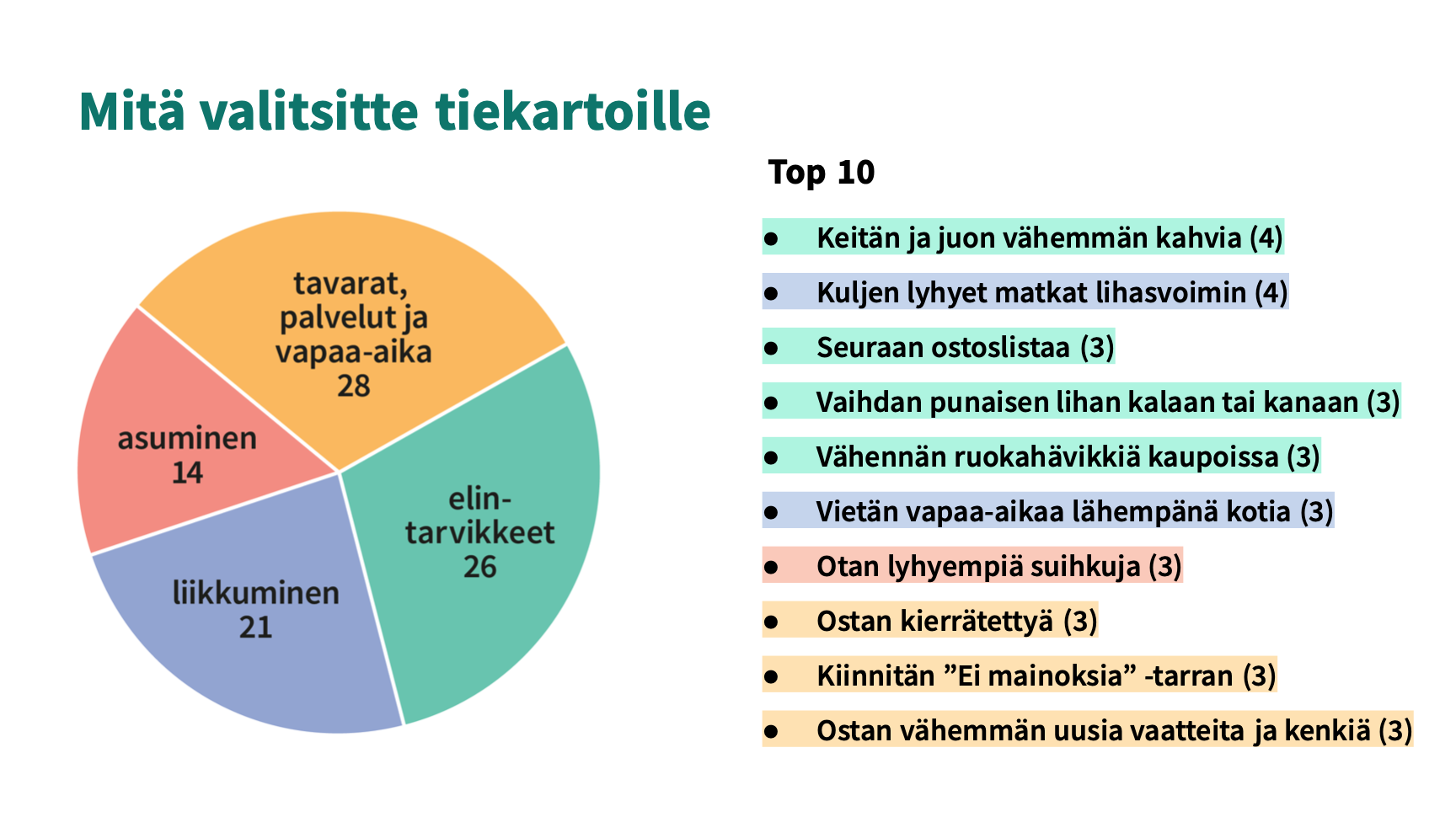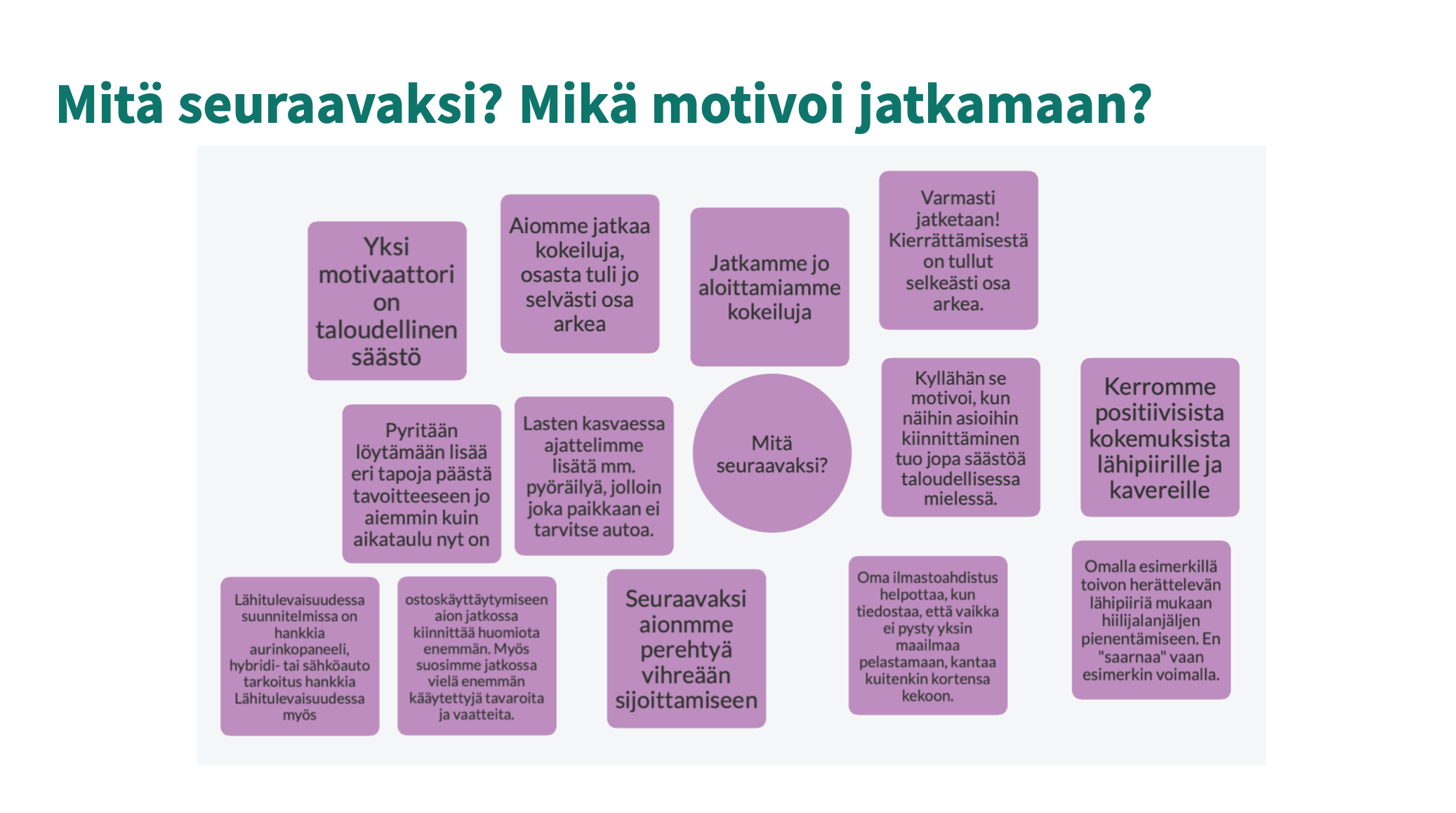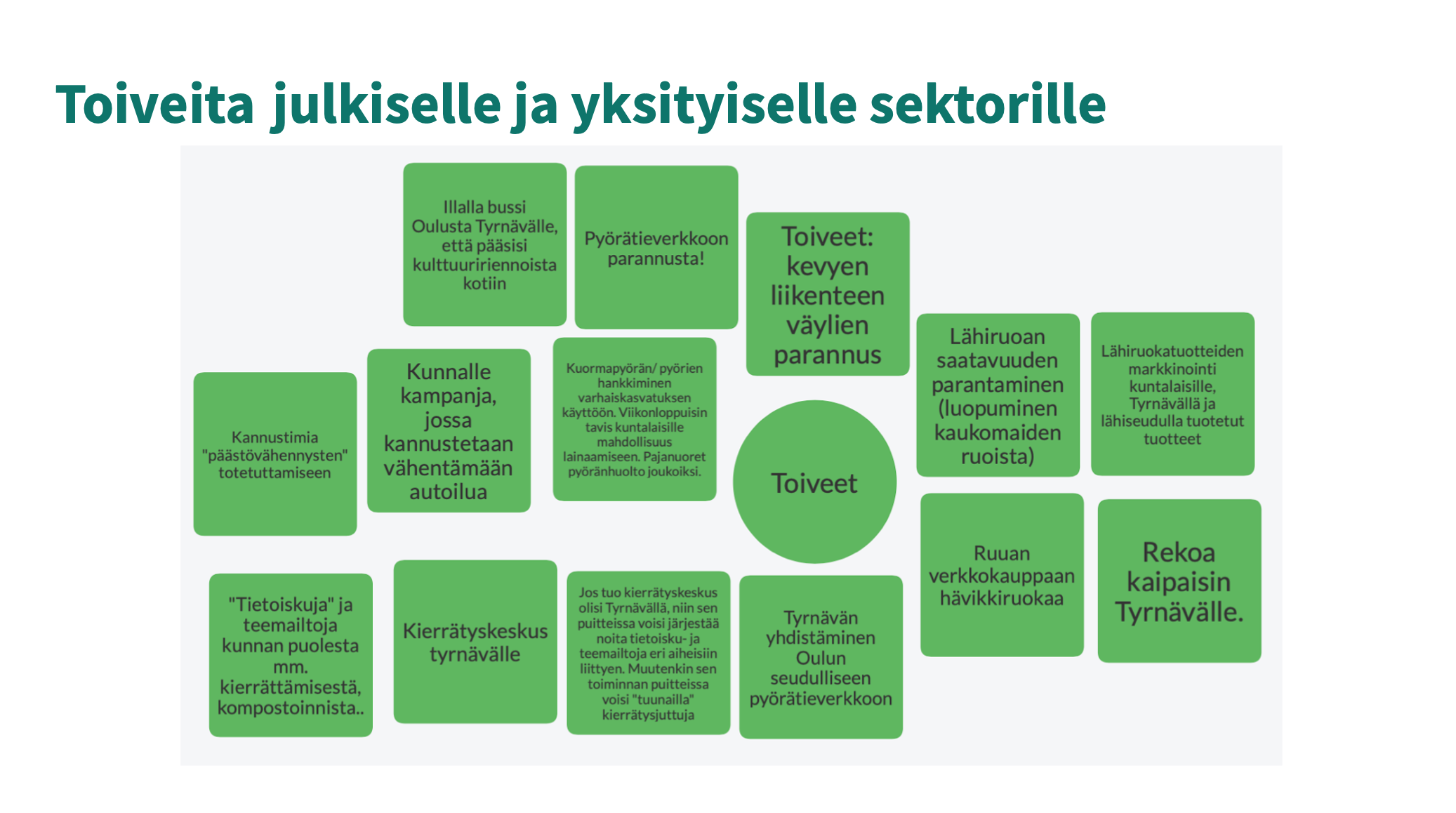 Sustainable Lifestyle Accelerators
Leading sustainable lifestyle accelerators where households reduce their carbon footprints with the support of municipalities and businesses.
Project management, workshop facilitation (live, online, and hybrid), and more. At D-mat for the municipalities of Porvoo, Pyhäjärvi and Tyrnävä. 2022.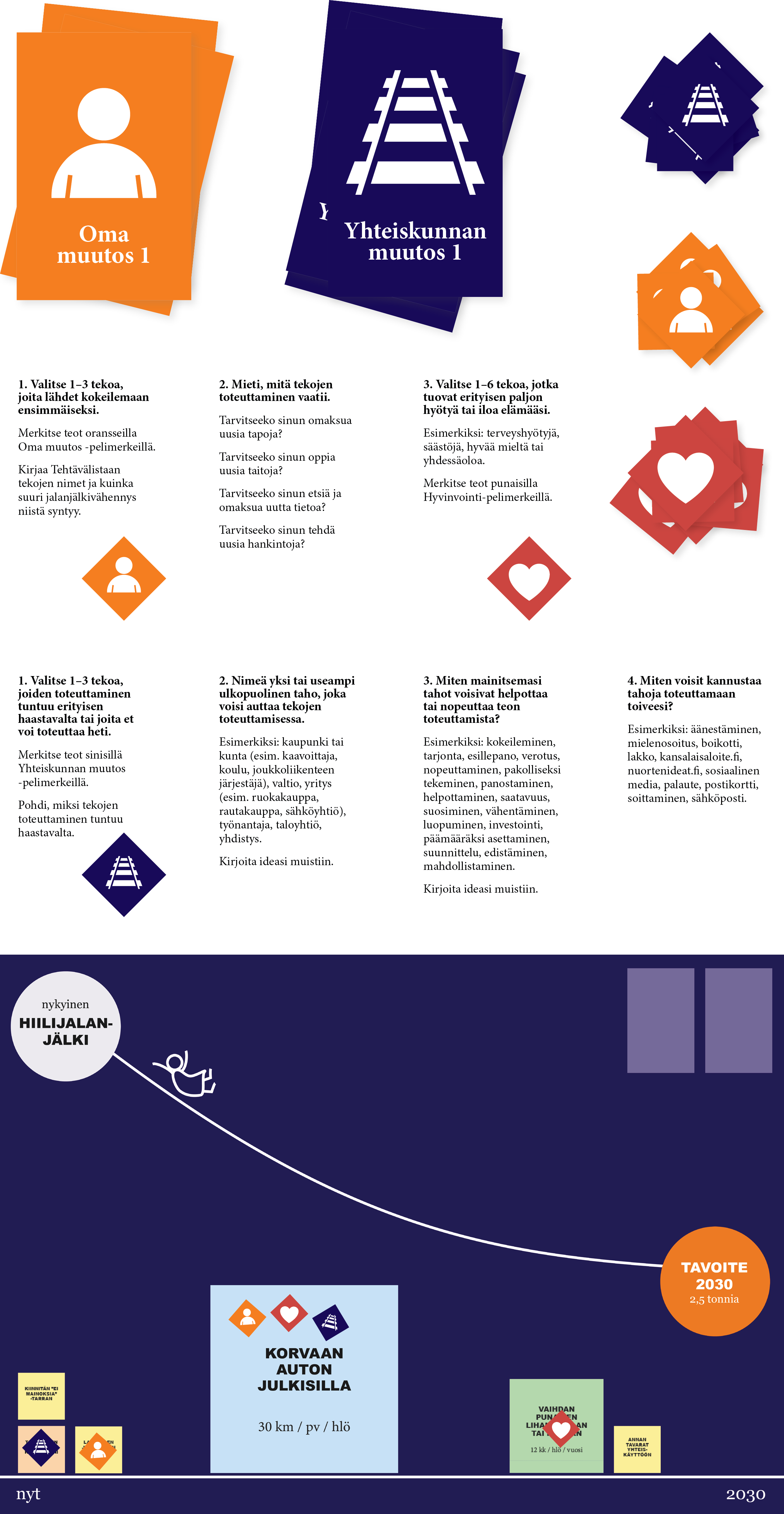 Climate Puzzle
New System Change and Personal Change cards and pieces for the Climate Puzzle.
Idea and prototyping. At D-mat, with Sonja Nielsen and Michael Lettenmeier. 2022.
Design of the Climate Puzzle by Sonja Nielsen, icons by Bambi Vihavainen.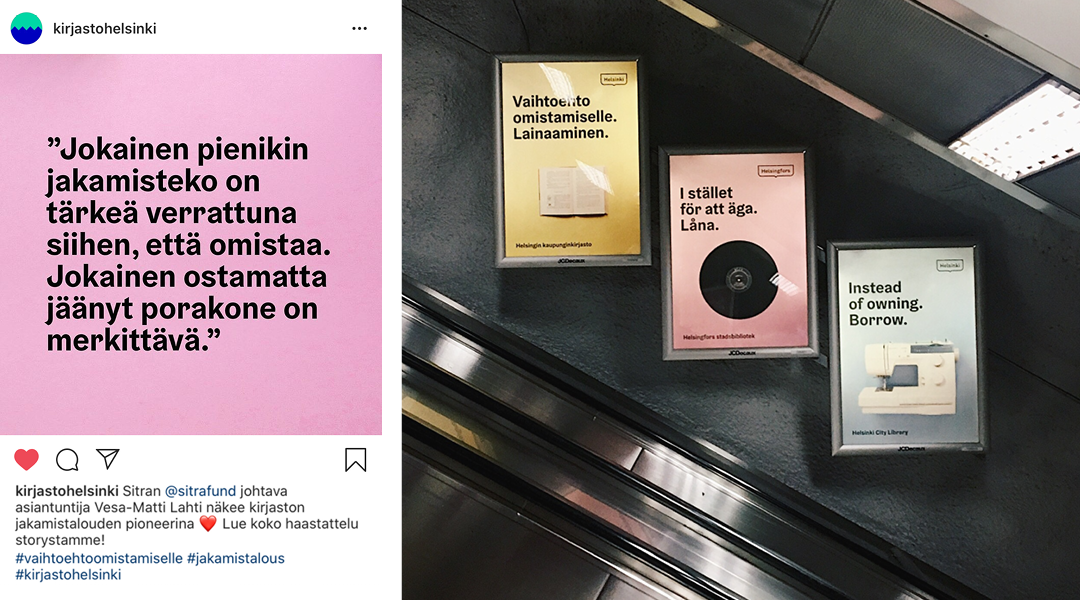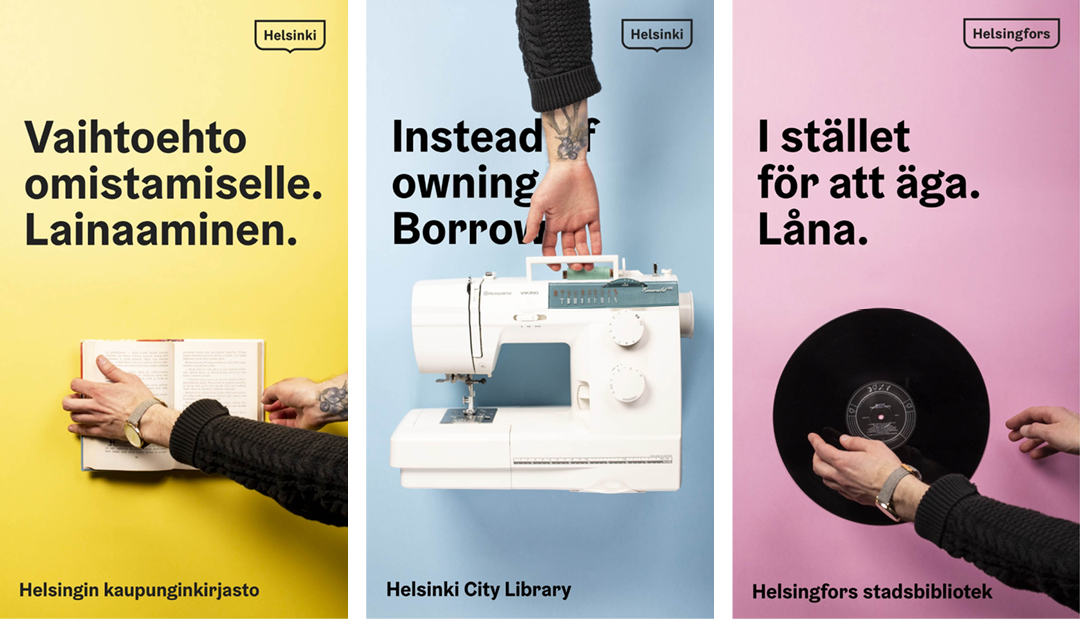 Instead of owning. Borrow.
Visual idea and execution of a marketing campaign promoting sharing as an alternative to consumption. Street ads, stop motion animation, social media and more. For Helsinki City Library. 2019.
Photo of Stationlight ads by Risto Rimppi. Helsinki visual identity by Werklig.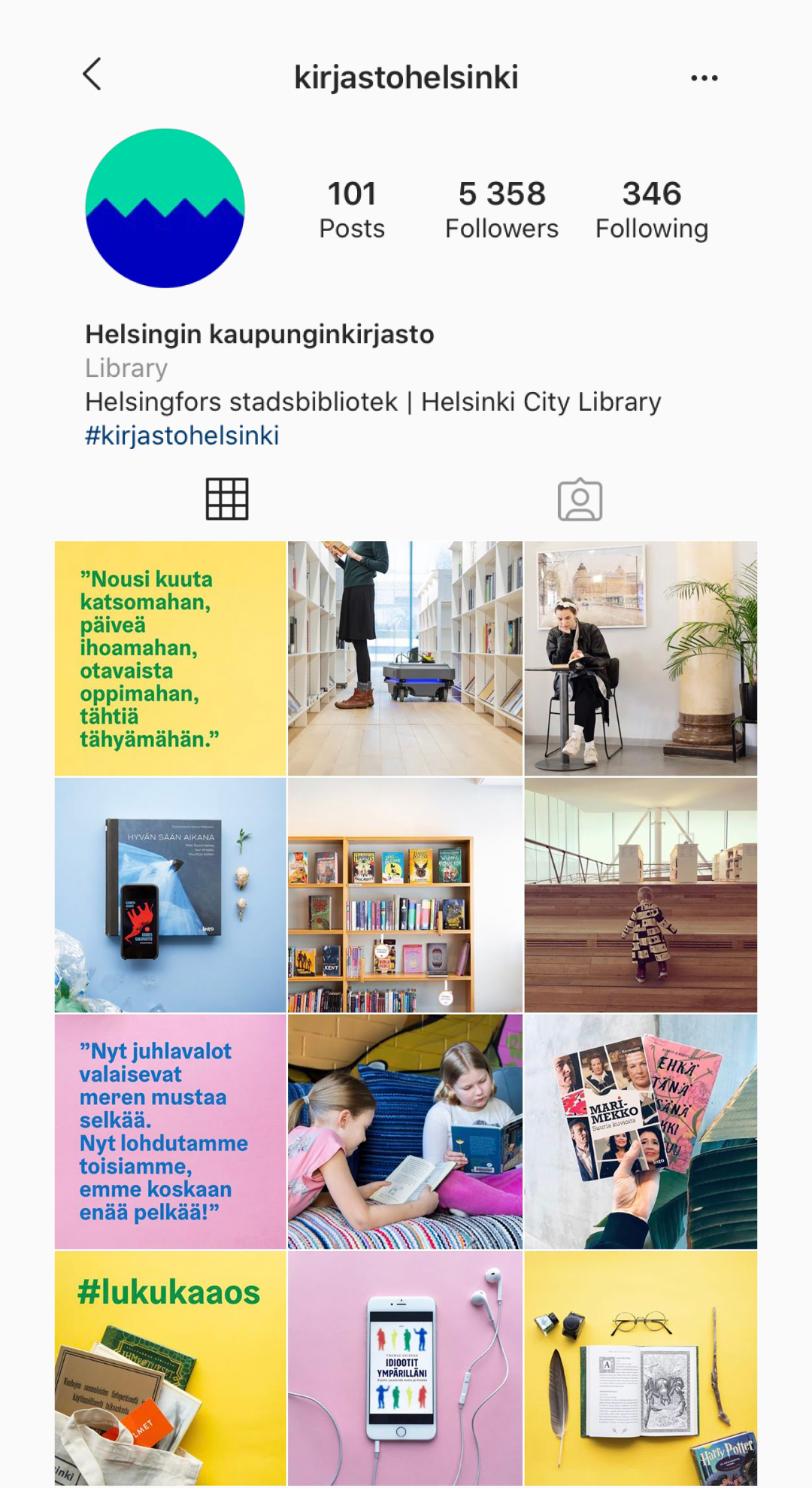 @kirjastohelsinki
Redesign of the concept and content of the Helsinki City Library Instagram account + content creation. 2019.
Content with marketing planner Soila Leppäkangas. Helsinki visual identity by Werklig.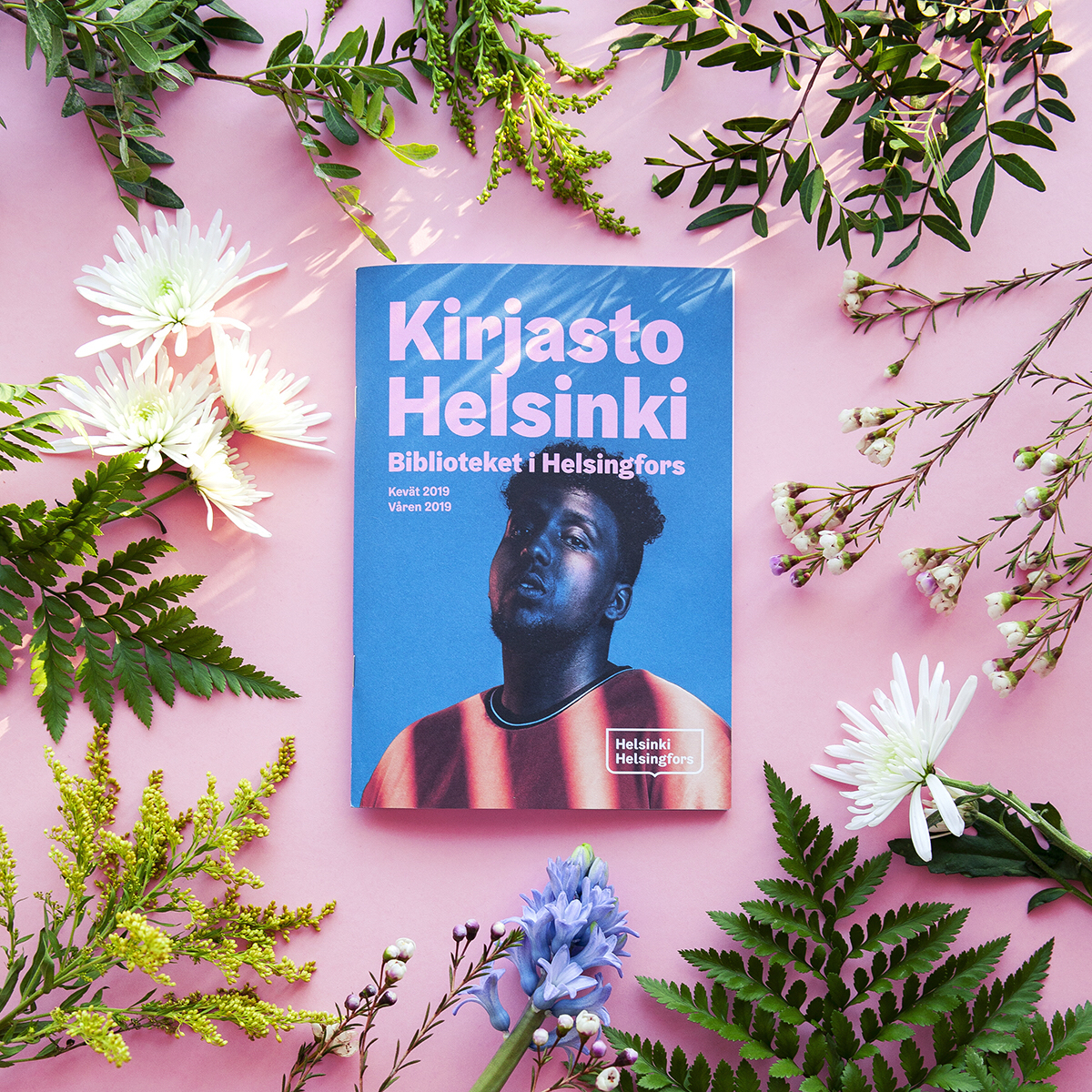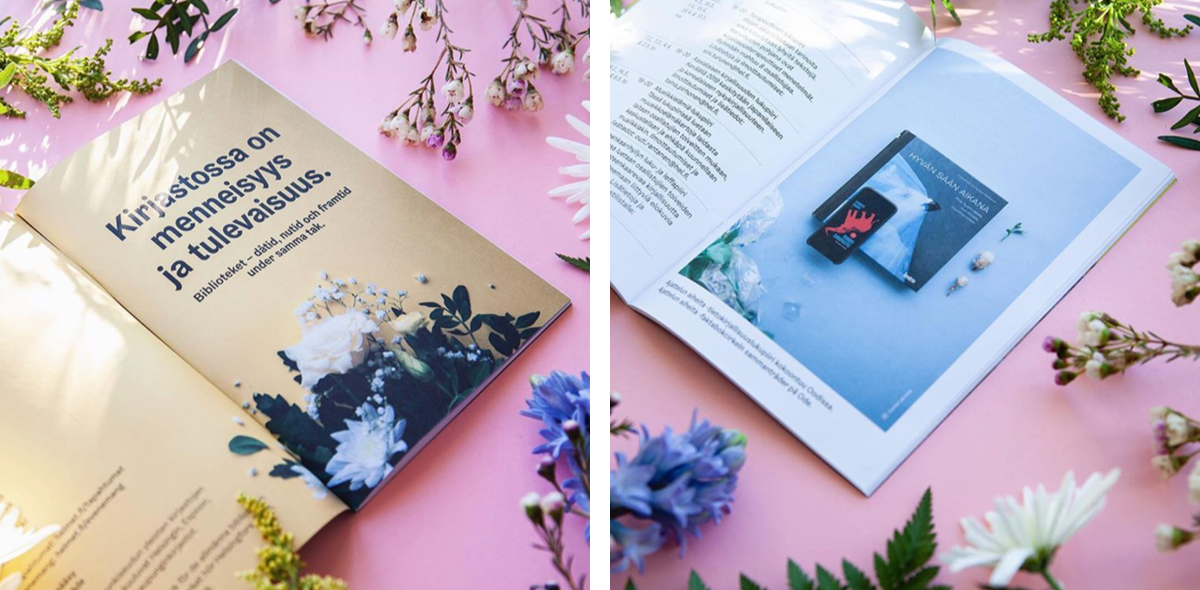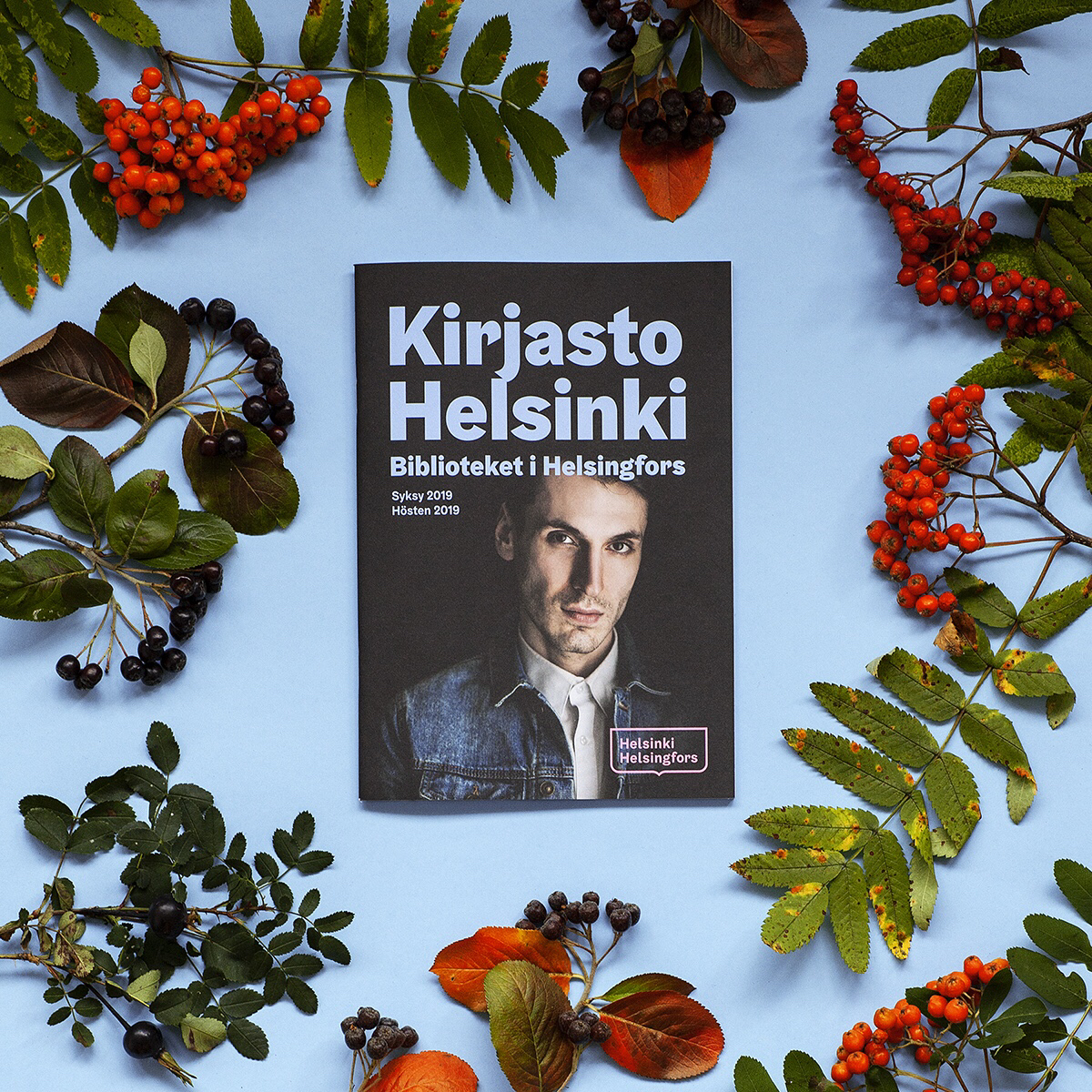 Kirjasto Helsinki Brochures
Visual design & layout, illustrations & photography, related campaign materials. A5, 72 pages. For Helsinki City Library. 2019.
Original cover photo of Hassan Maikal by Kai Kuusisto, and of Pajtim Statovci by Jonne Räsänen. Helsinki visual identity by Werklig.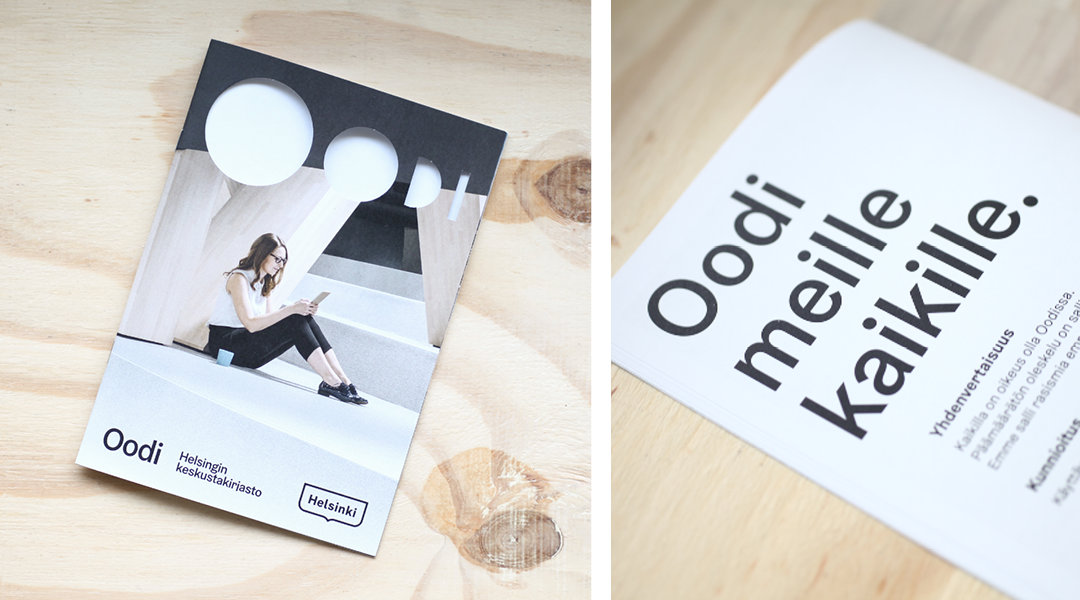 Oodi Brochures
Visual idea & layout. A5, 16 pages, three language versions. For Helsinki Central Library Oodi. 2019.
Oodi visual identity by N2, based on Helsinki visual identity by Werklig.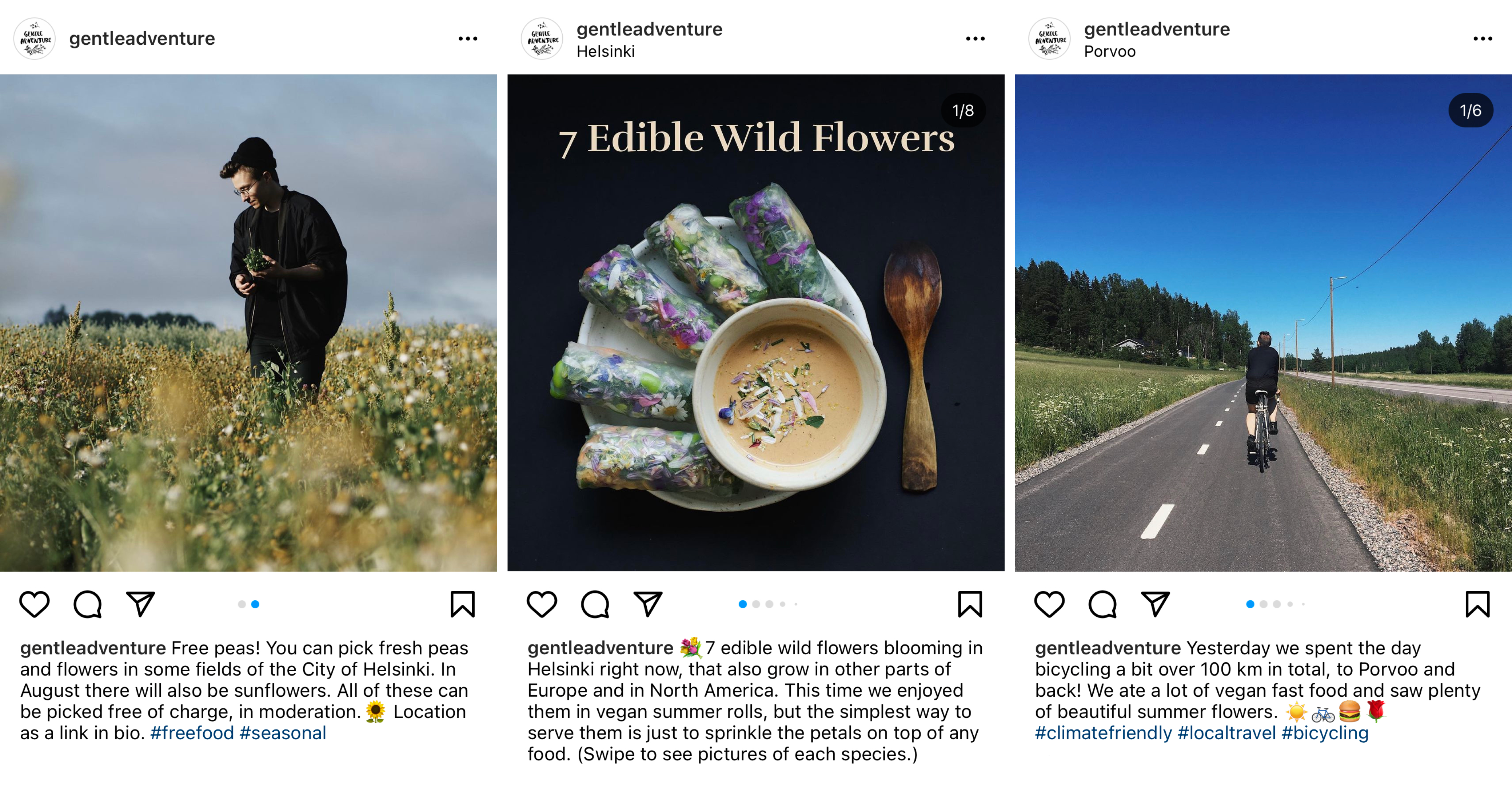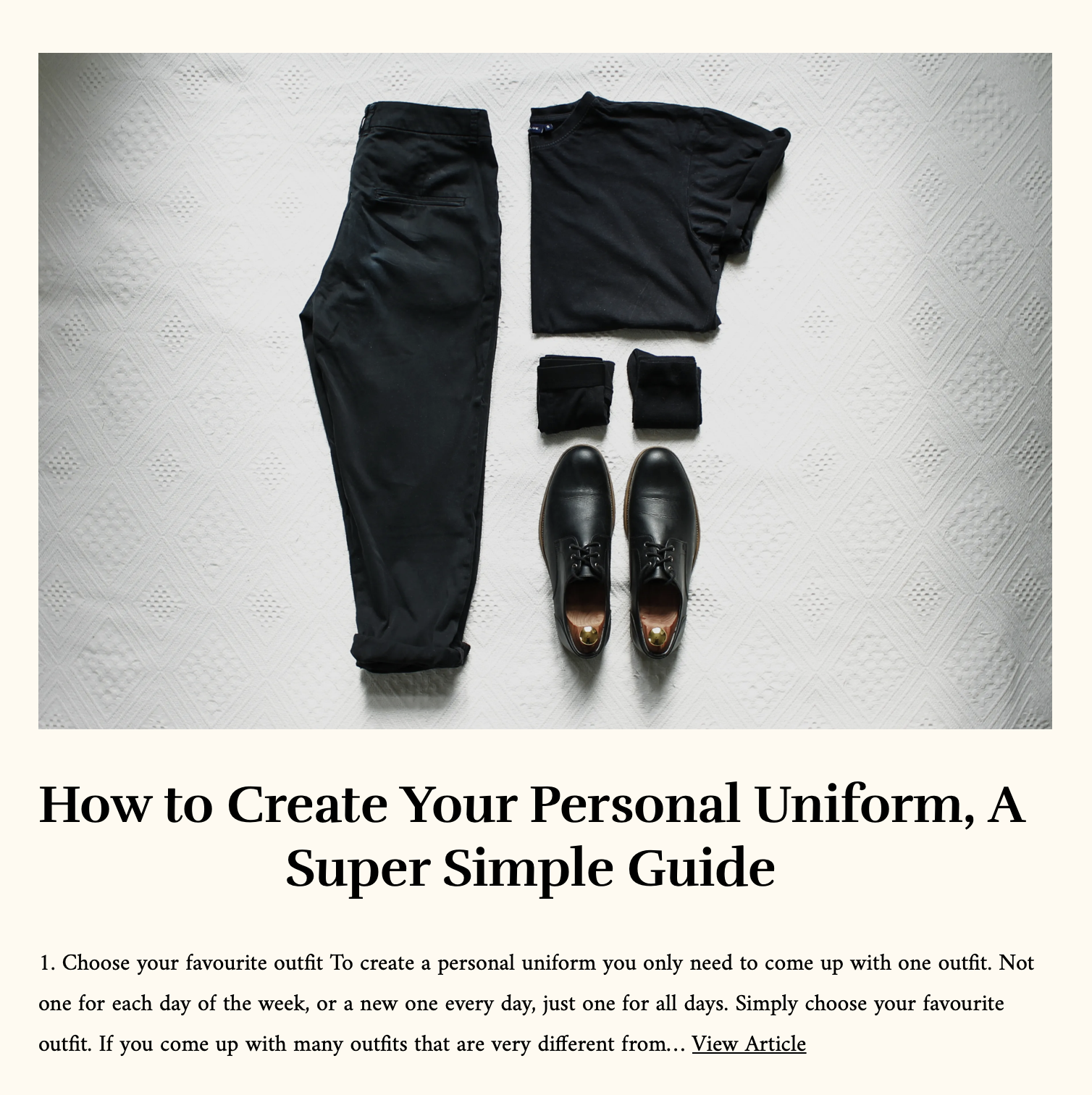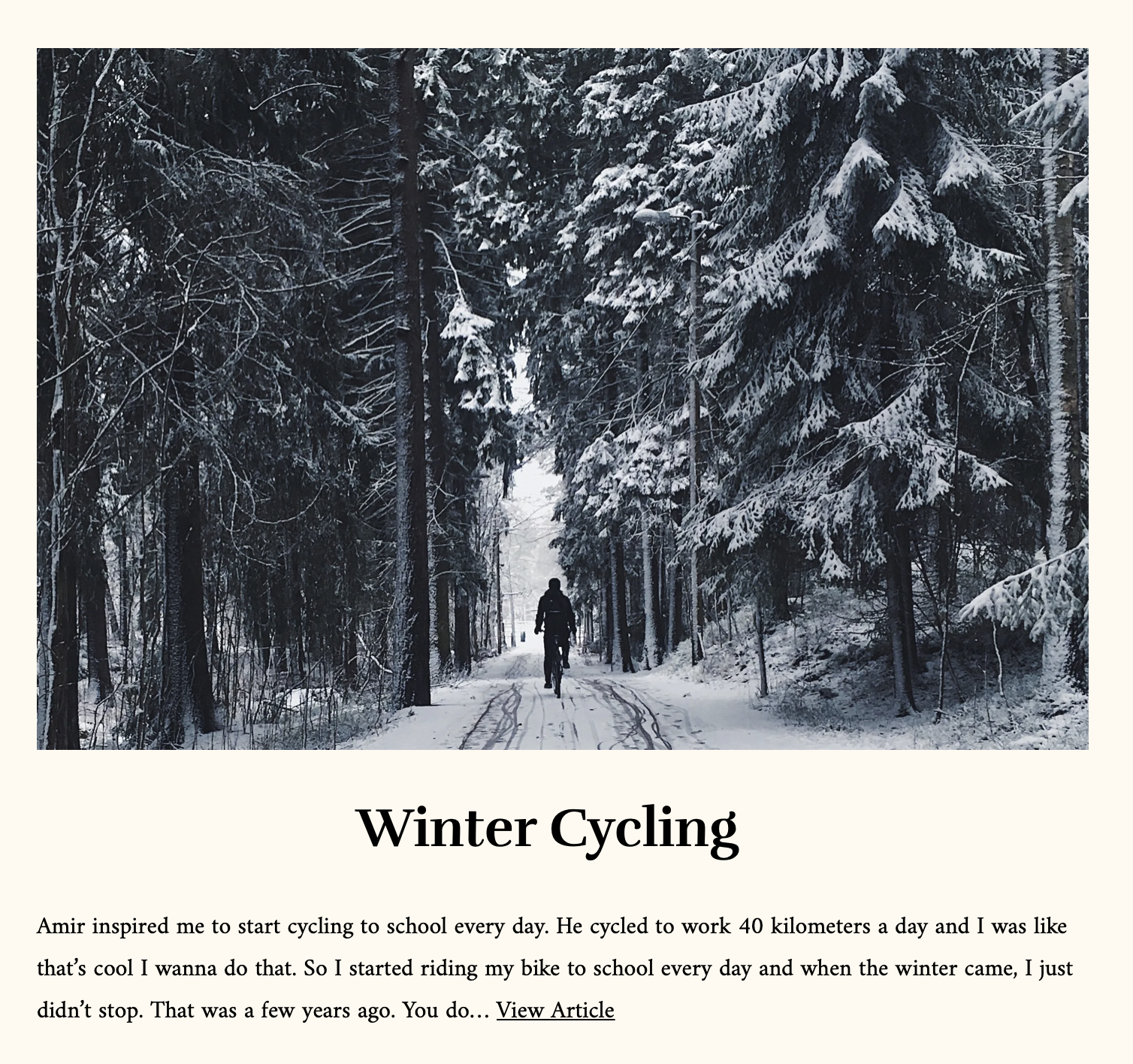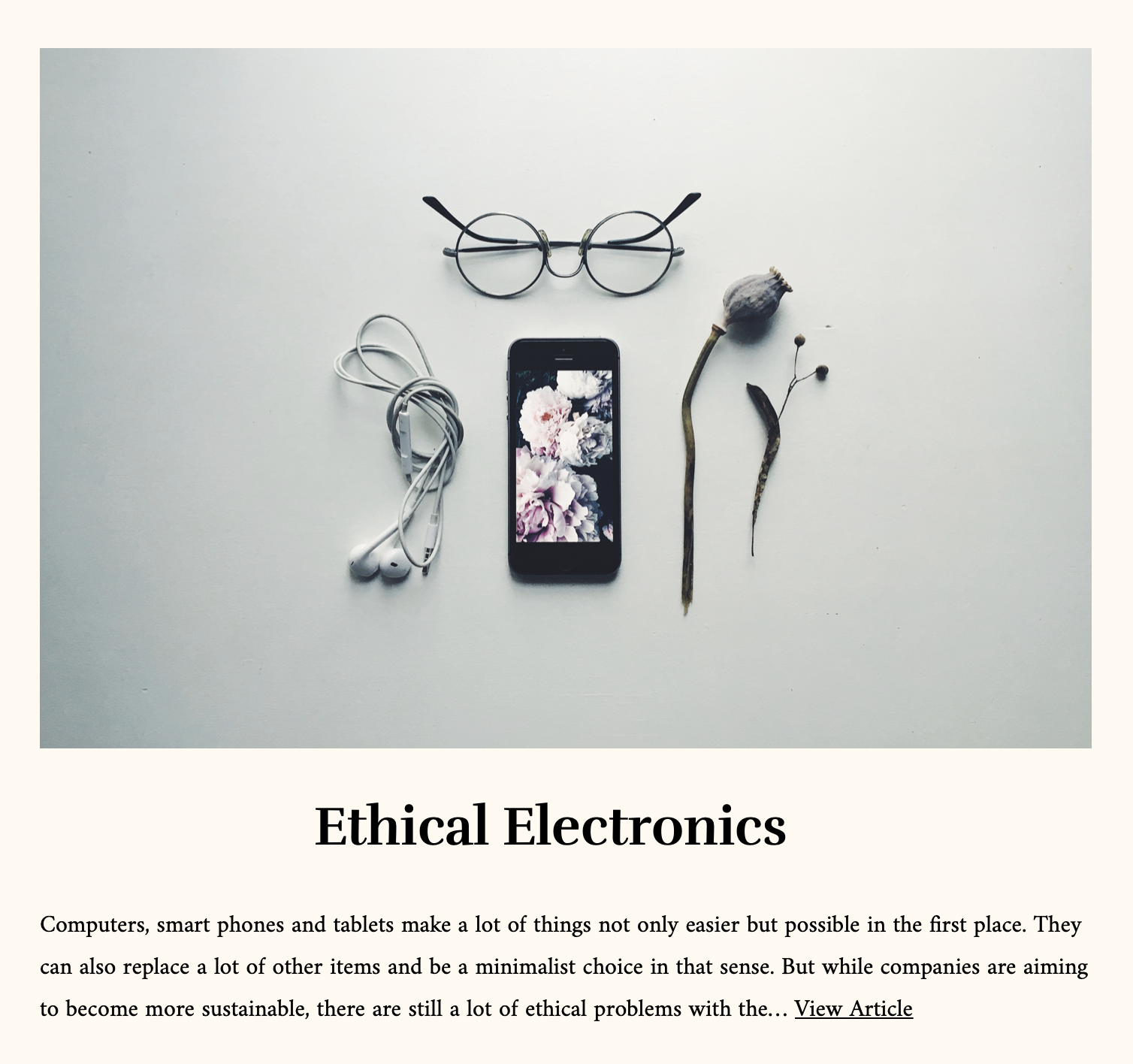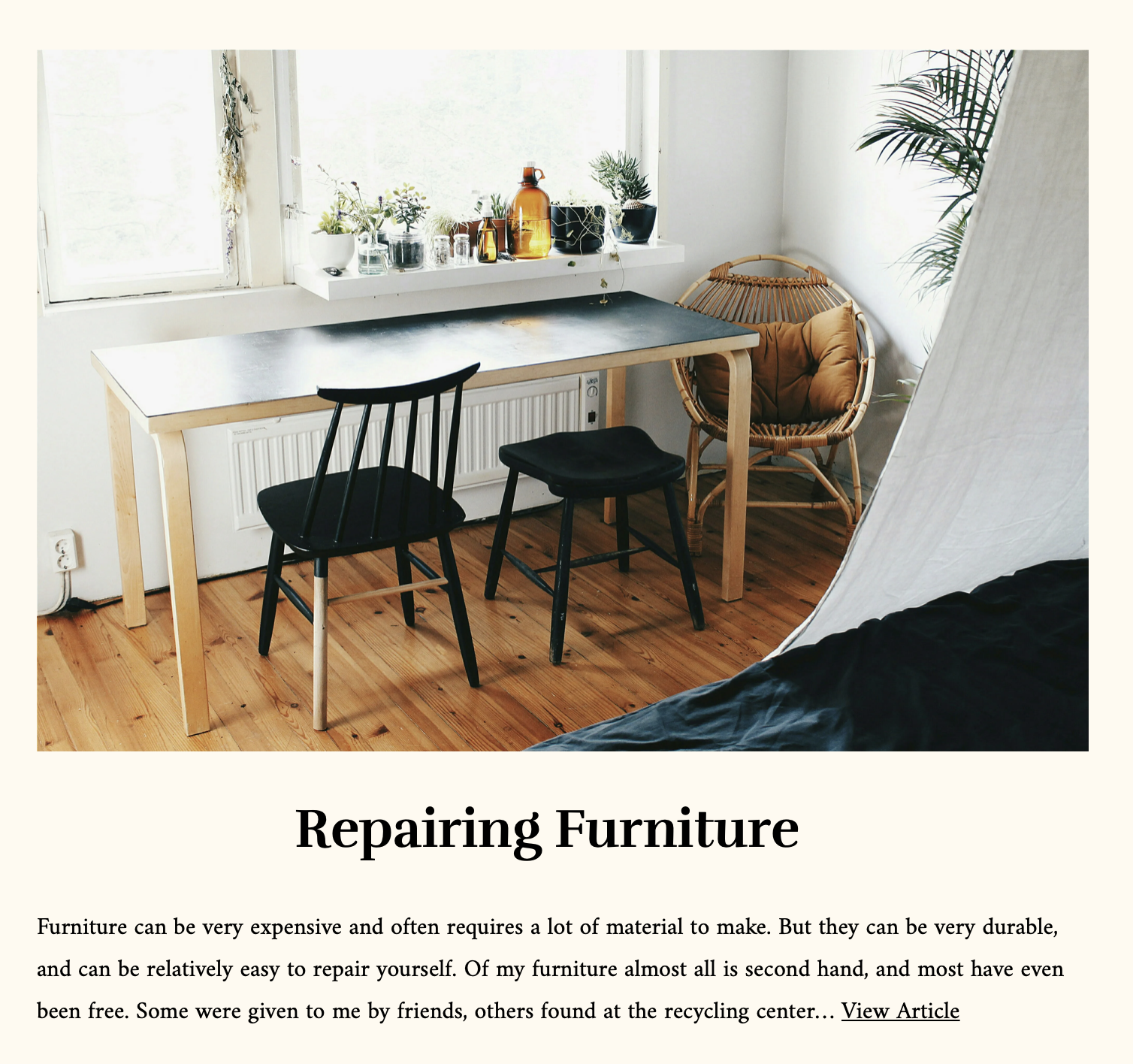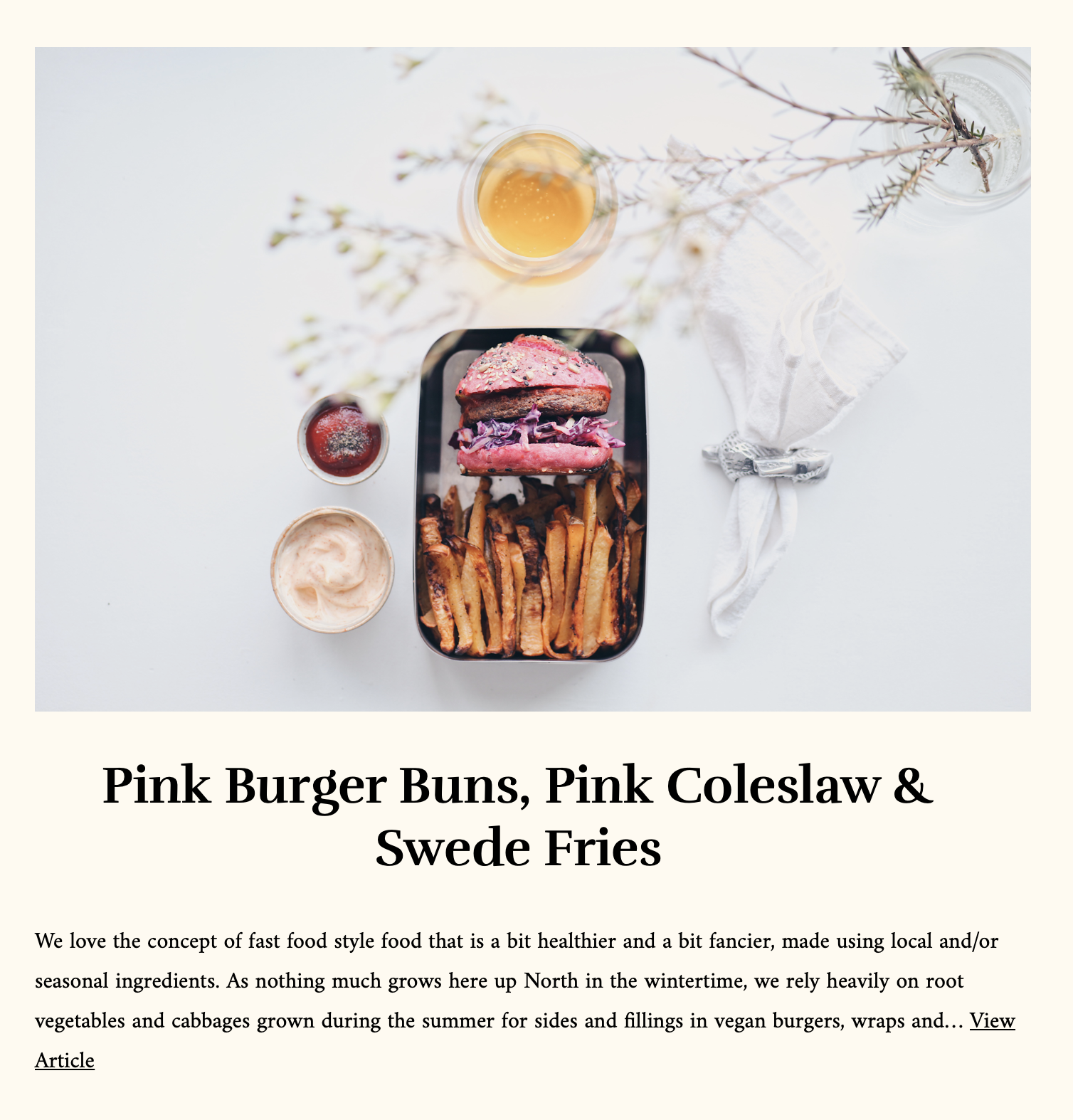 Gentle Adventure
Project inspiring beautiful and pleasant sustainable lifestyle. Concept, logo & visual identity, webdesign & css, photography, copy & content, blog, social media, webstore & product design. 2015-2020.
With Amir Tahvonen.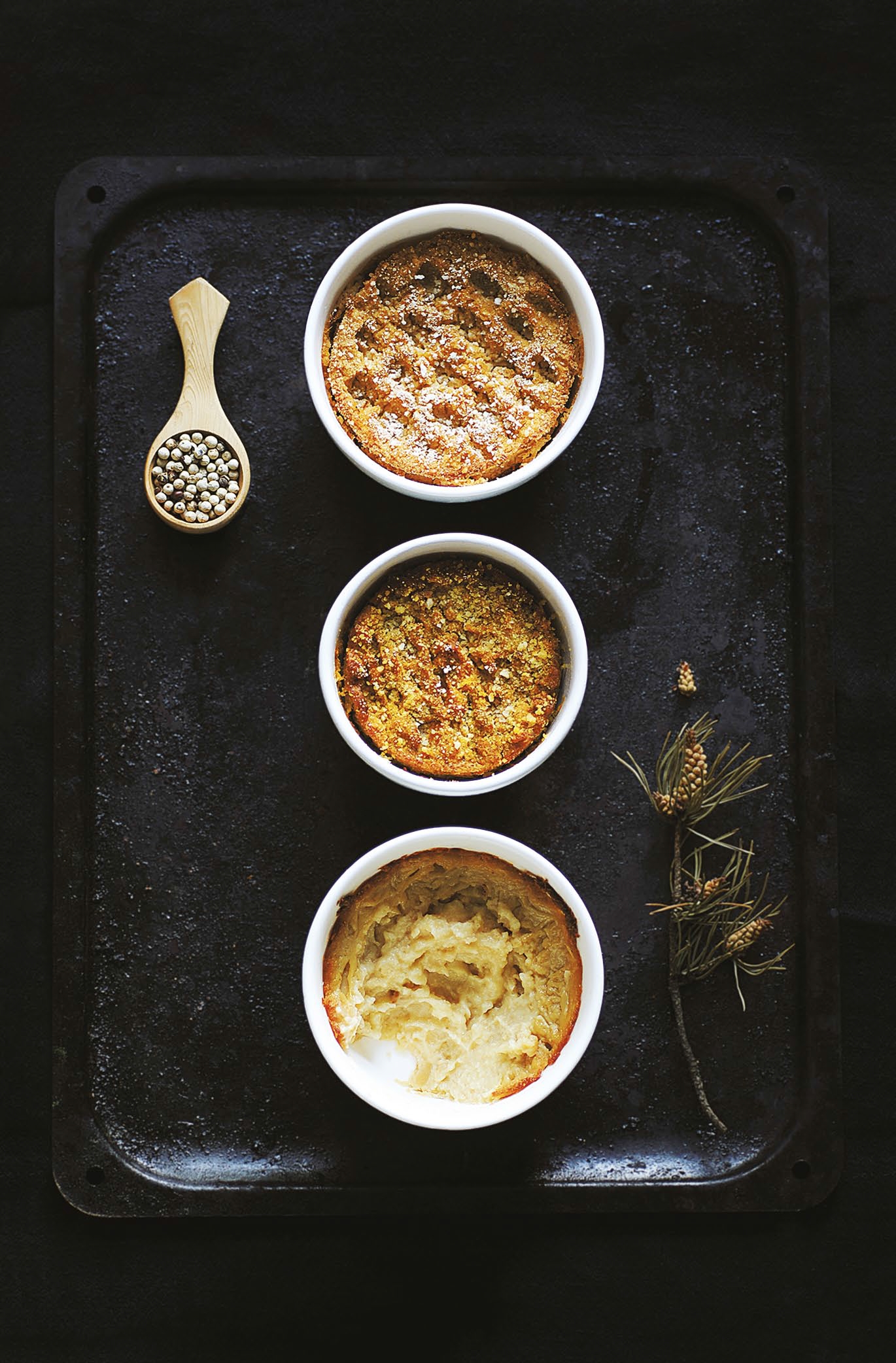 Yule
Visual concept, typography, layout, styling and photography for The Vegan Society of Finland. 2015.
With Amir Tahvonen.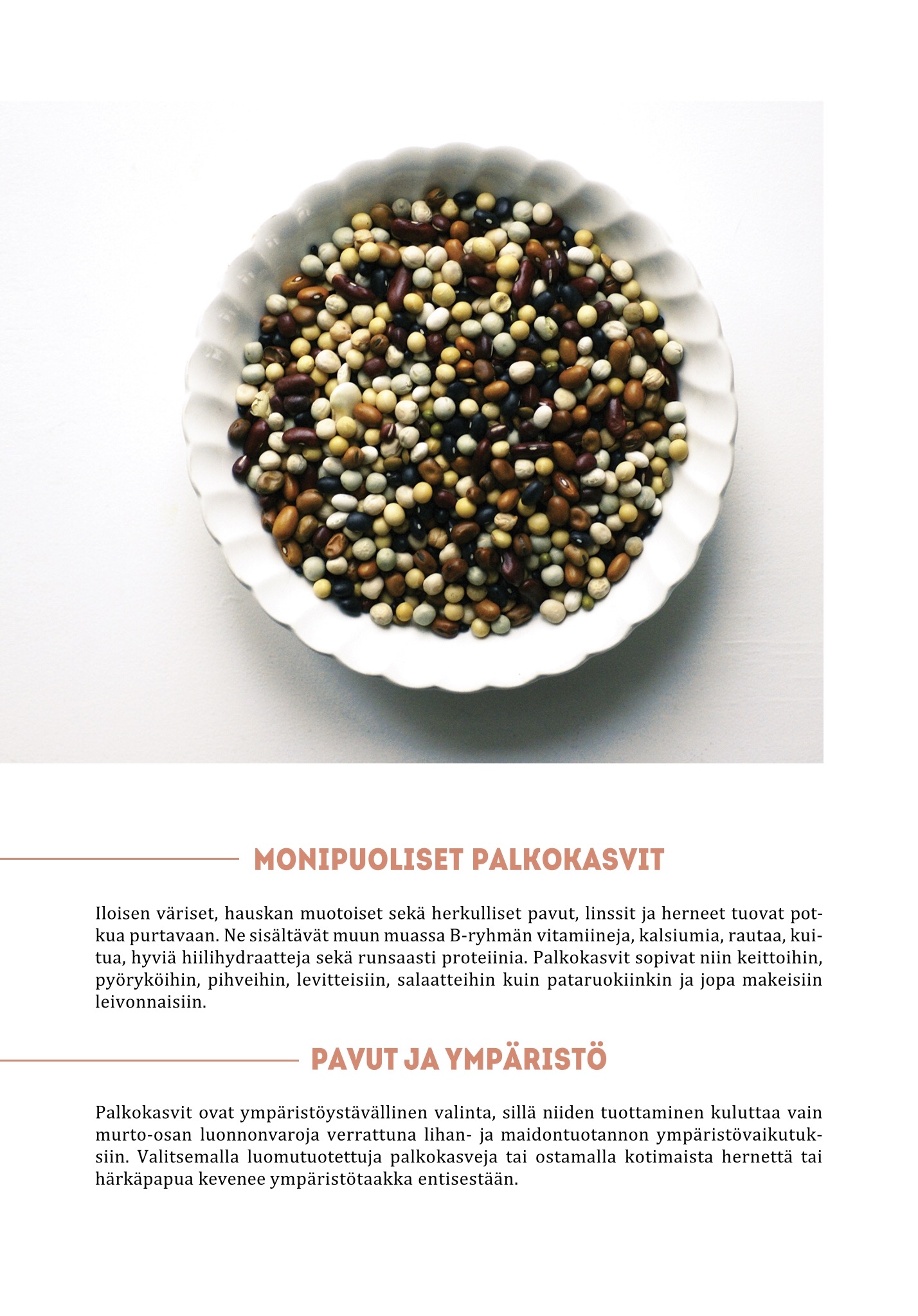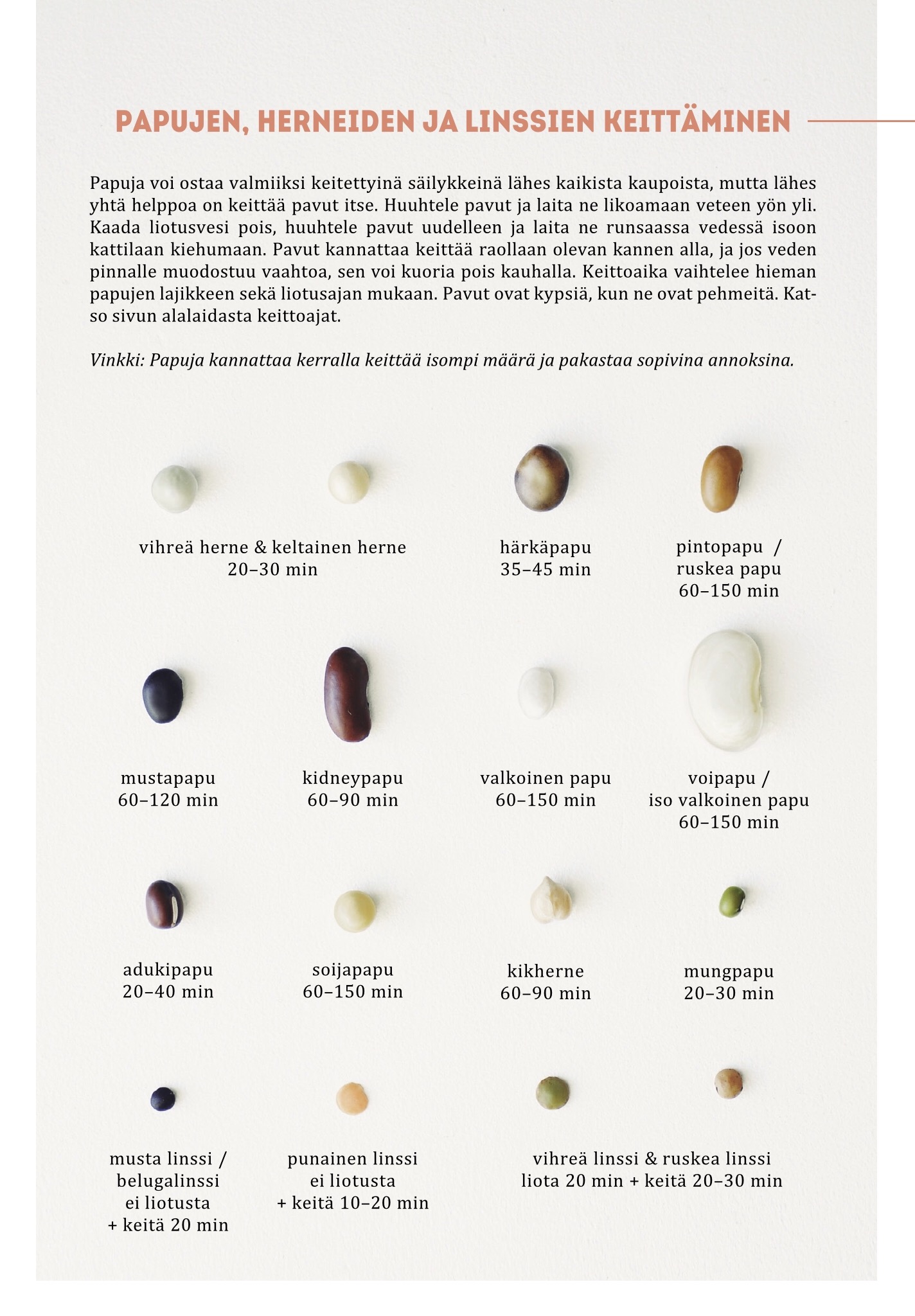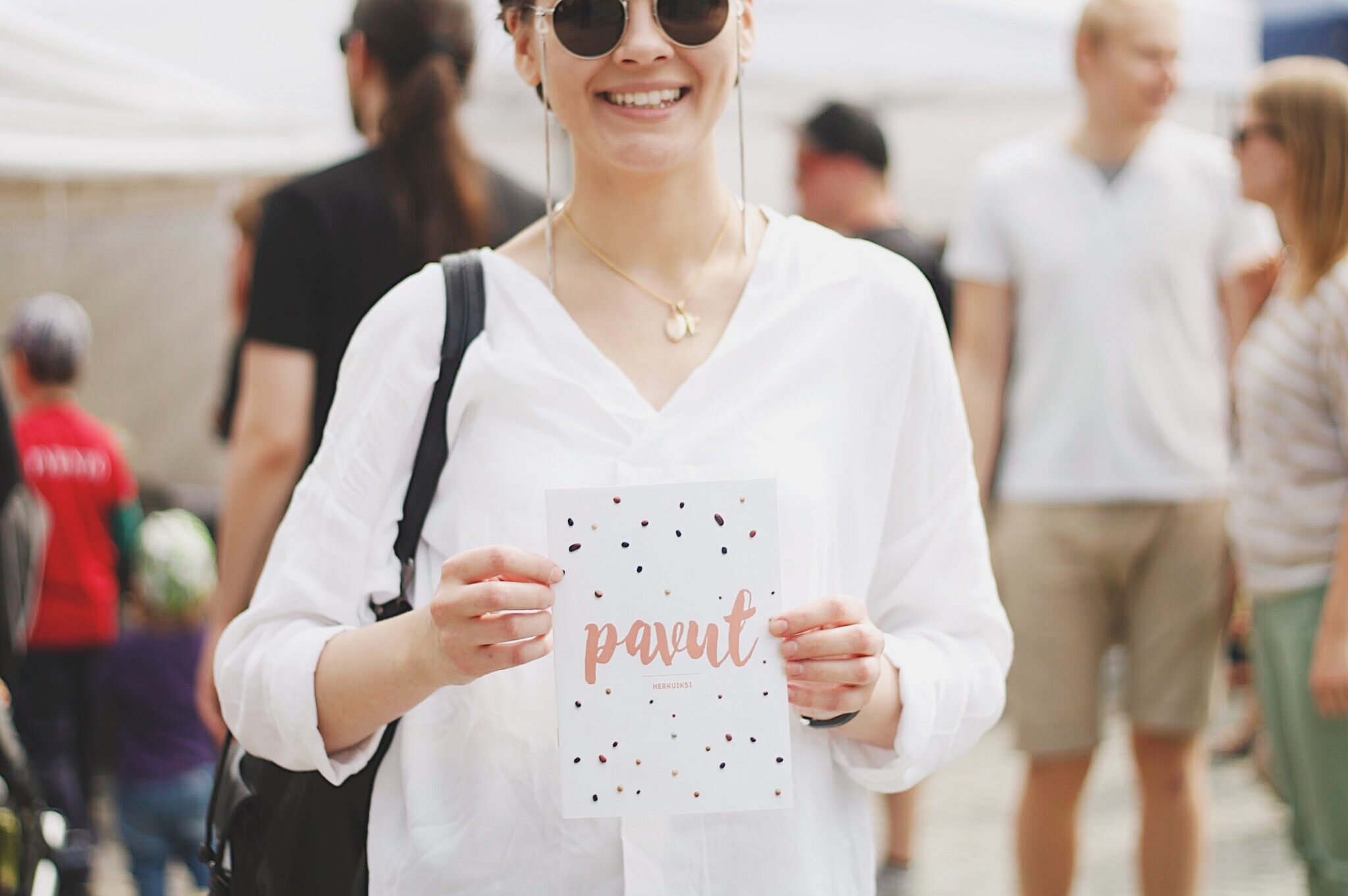 Beans
Visual concept, typography, layout and photography for The Vegan Society of Finland. 2016.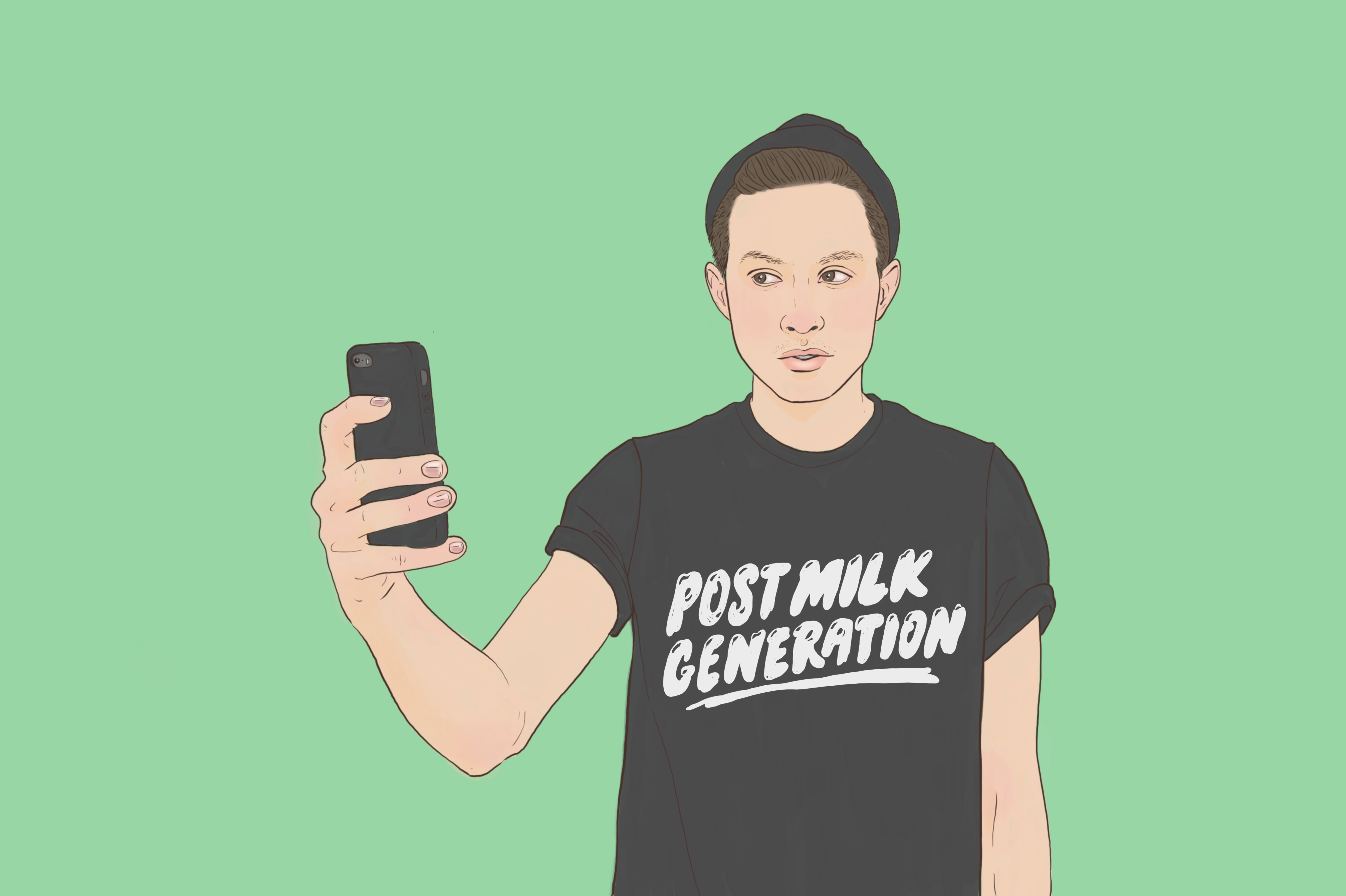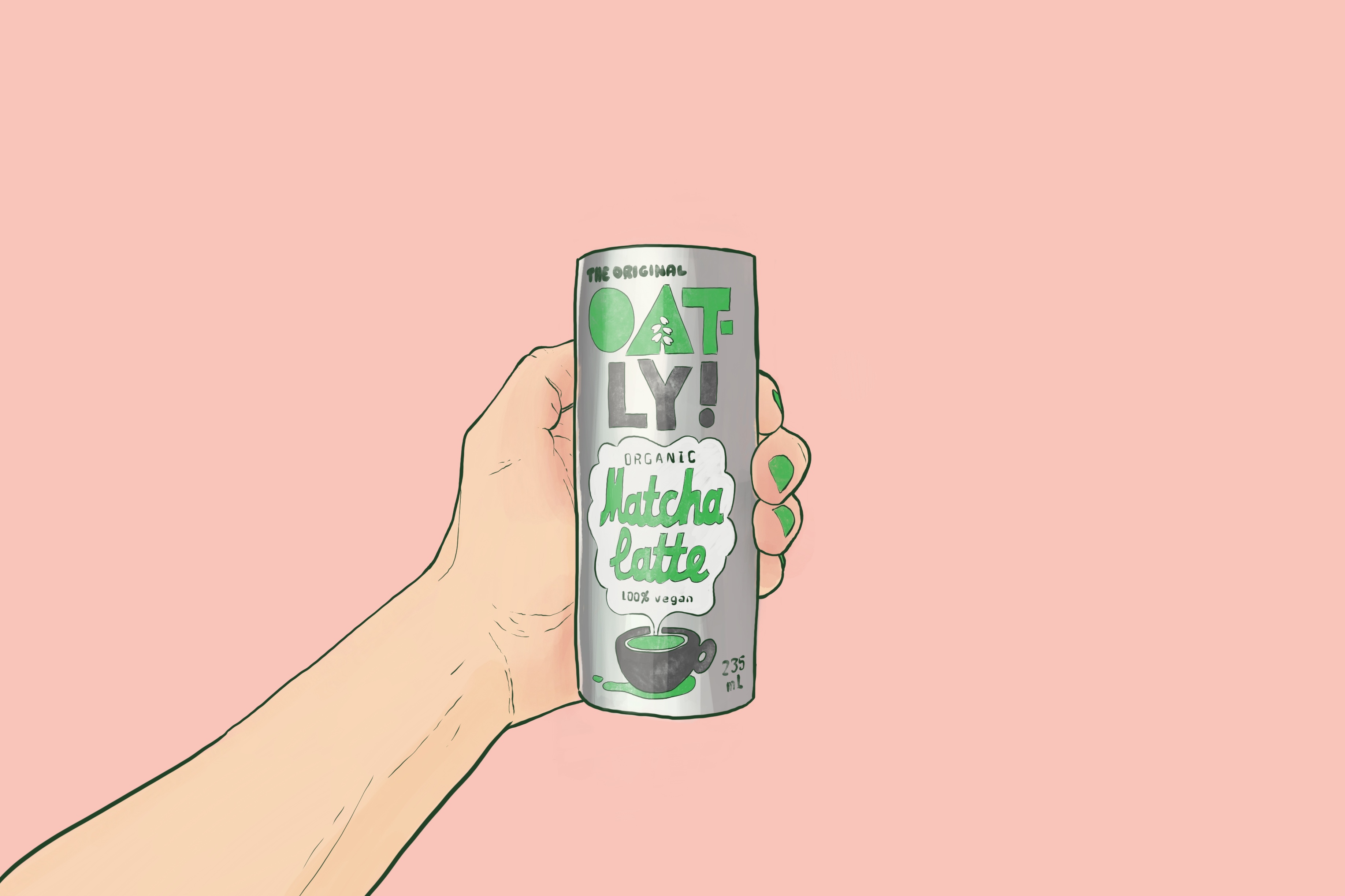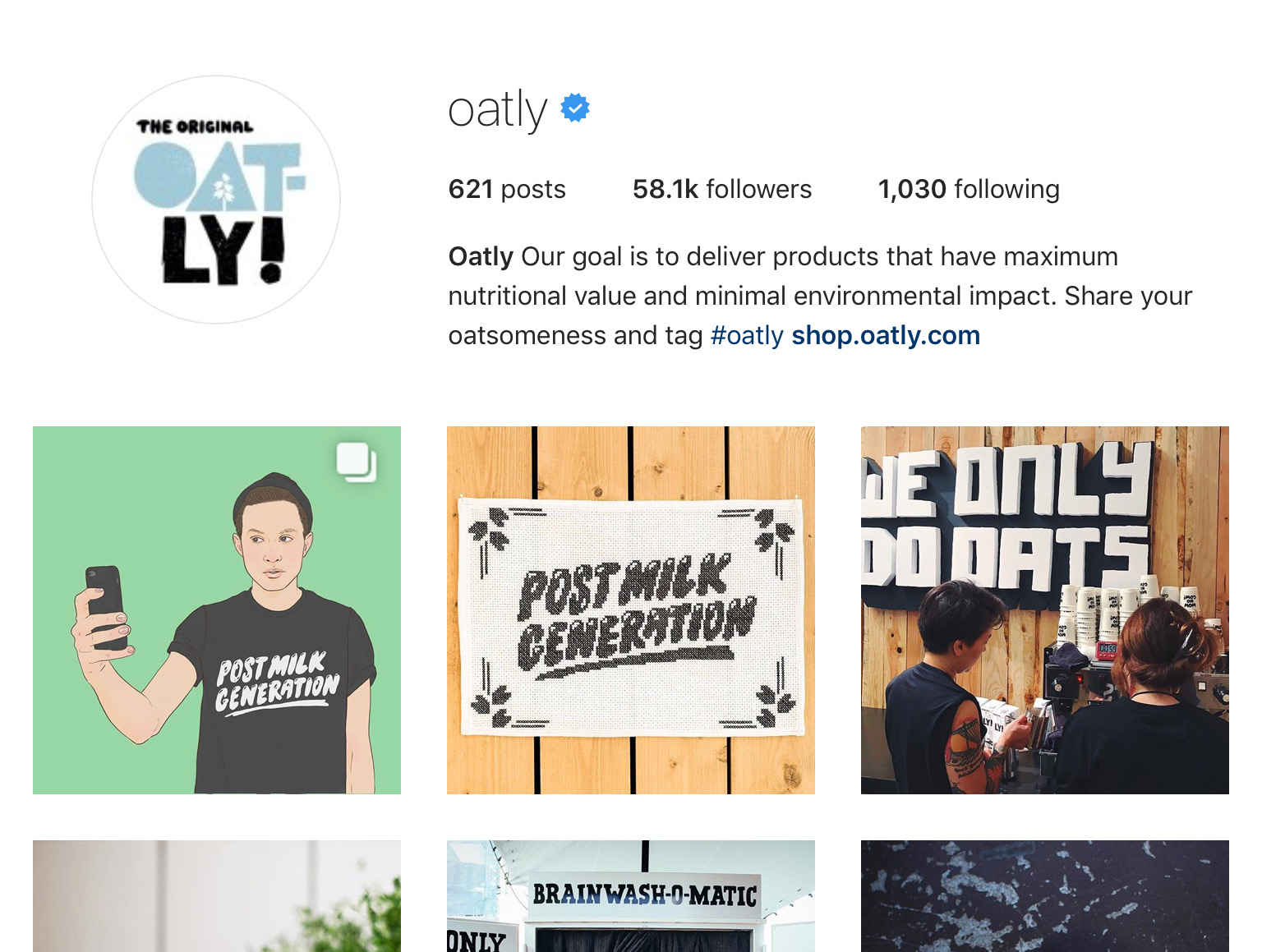 Post Milk Generation
Digital illustrations about oat milk and modern life, for Oatly. 2017.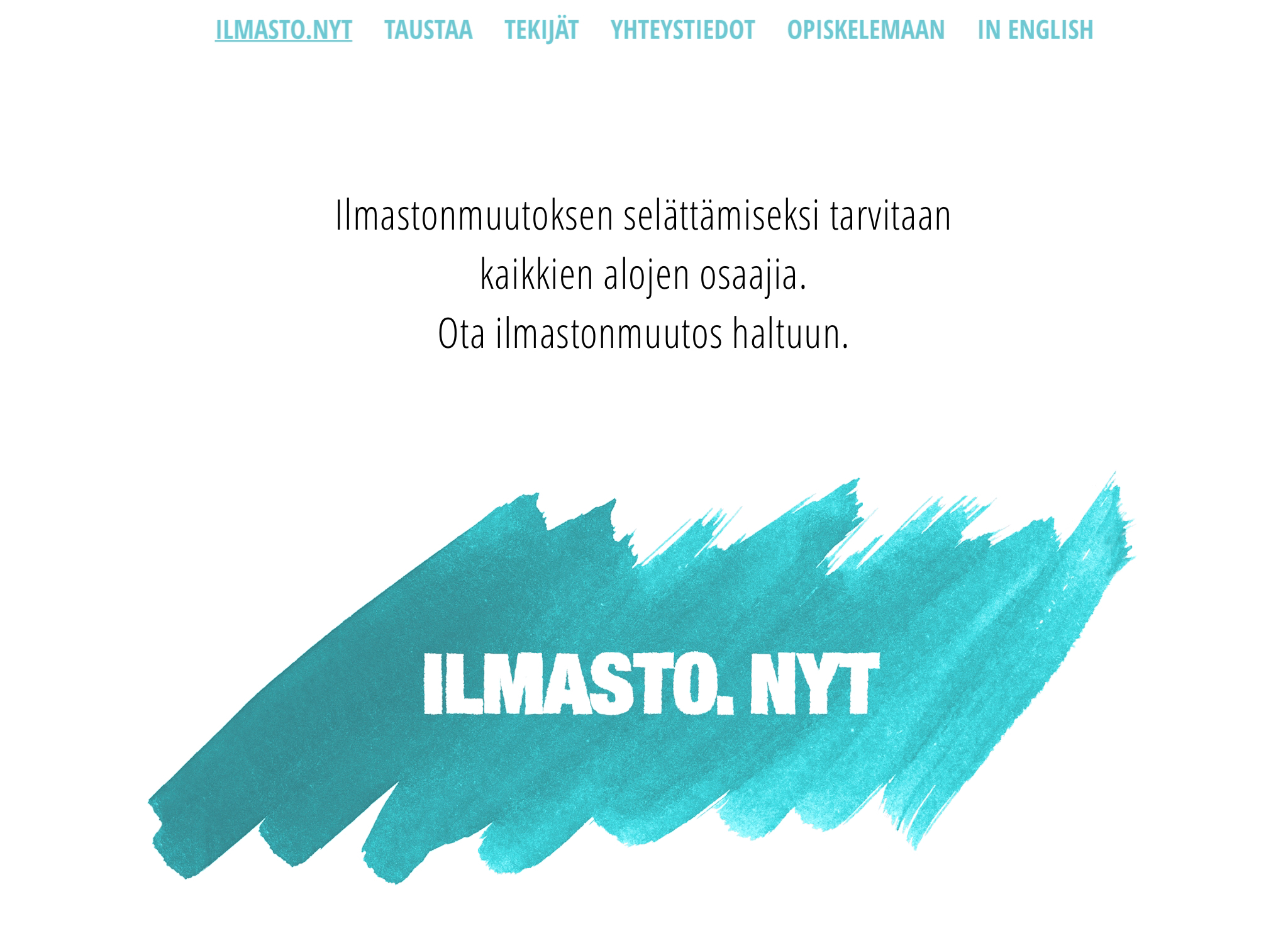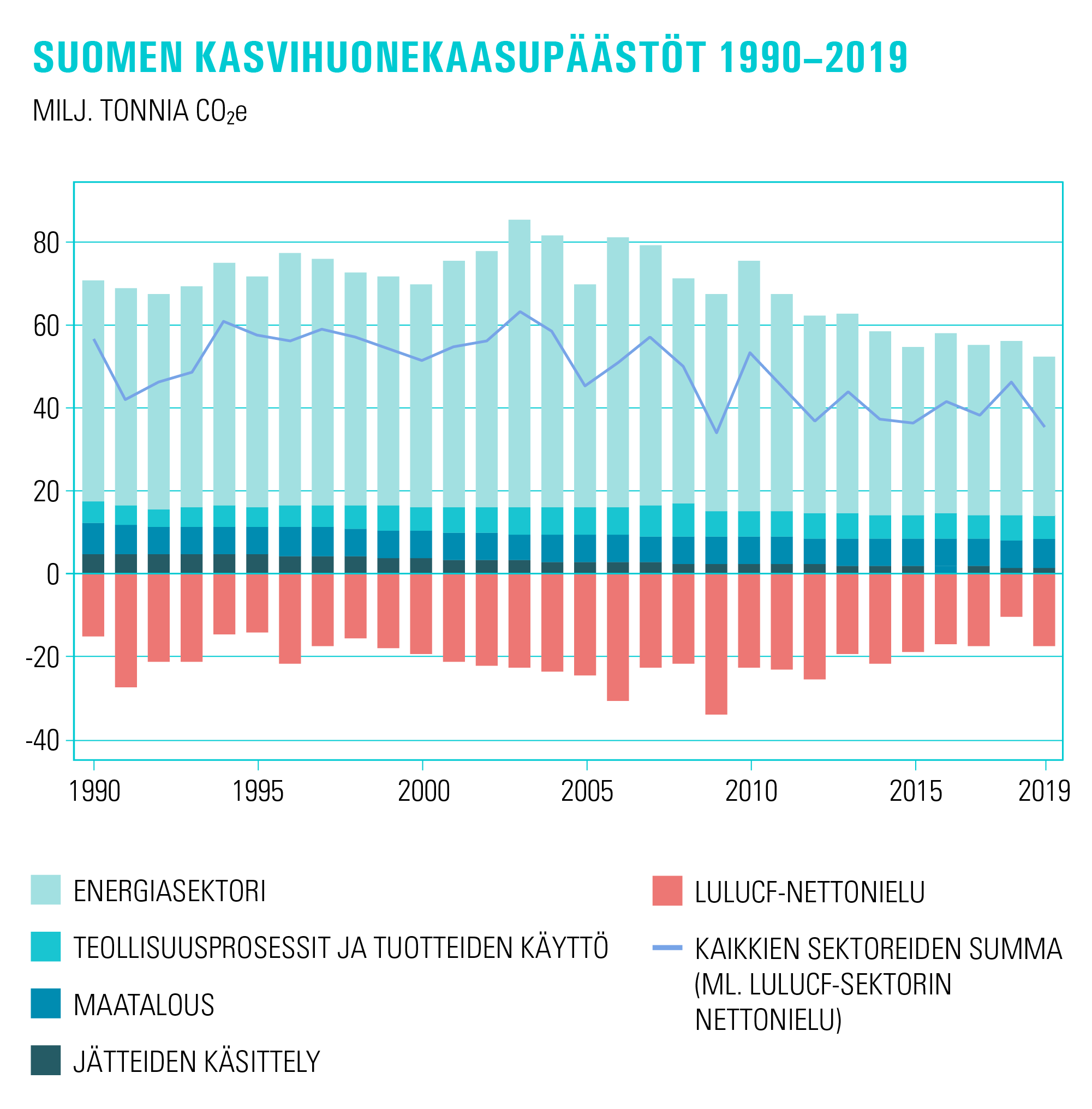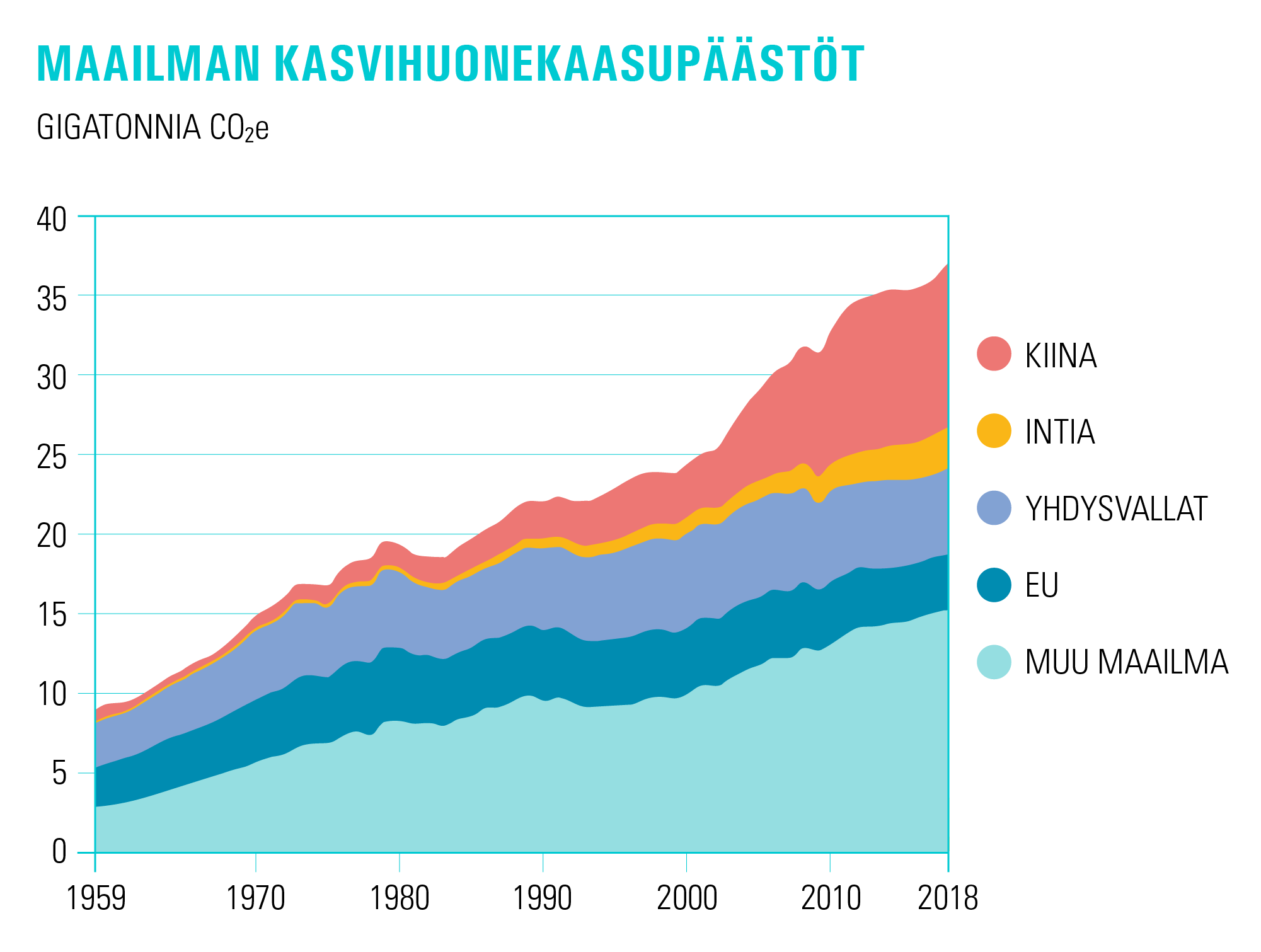 Climate.Now
Infographics, icons, lecture materials, video graphics and minimalist web design for an online course about climate change. For the University of Helsinki. 2016 & 2021.
Logo design by Timo Kallio.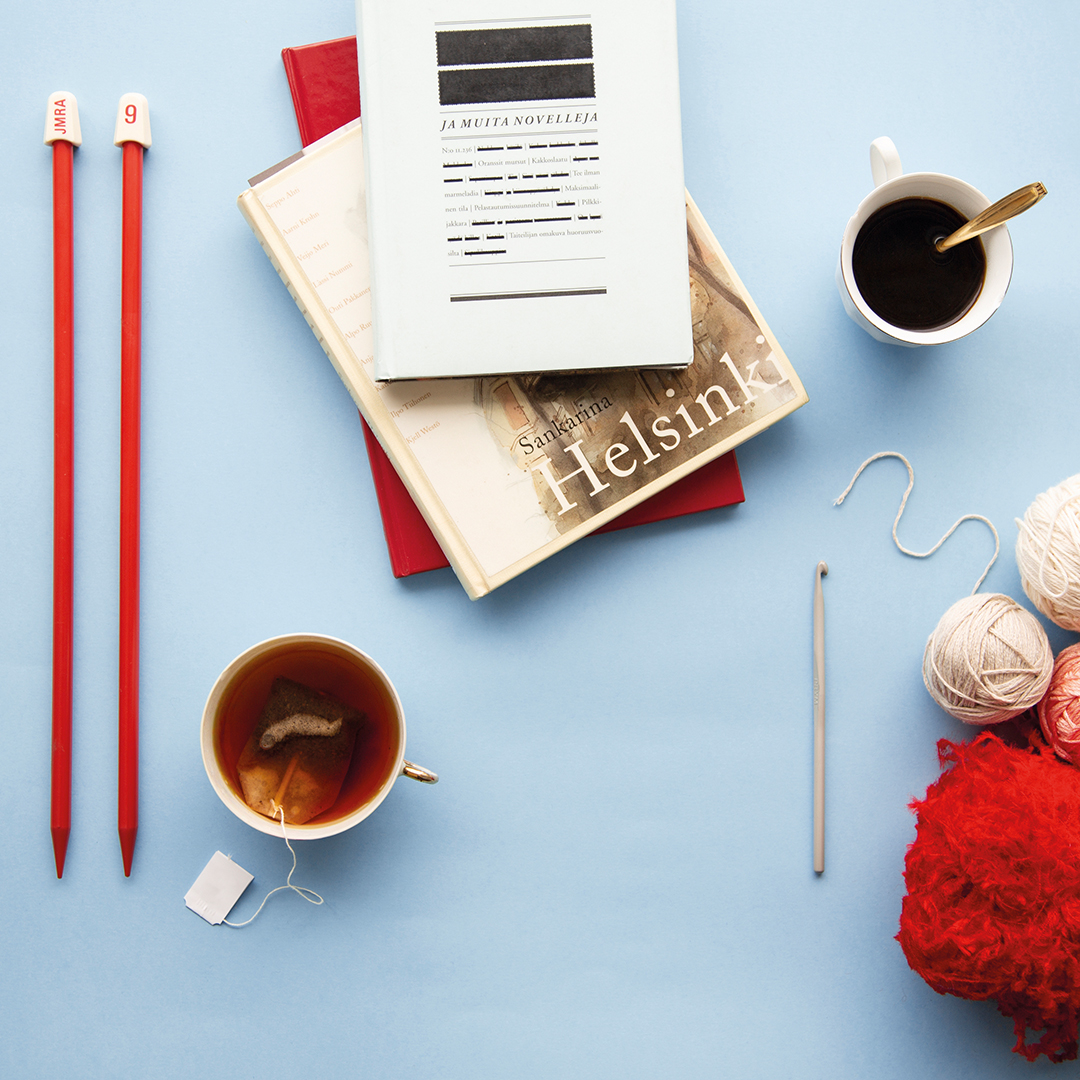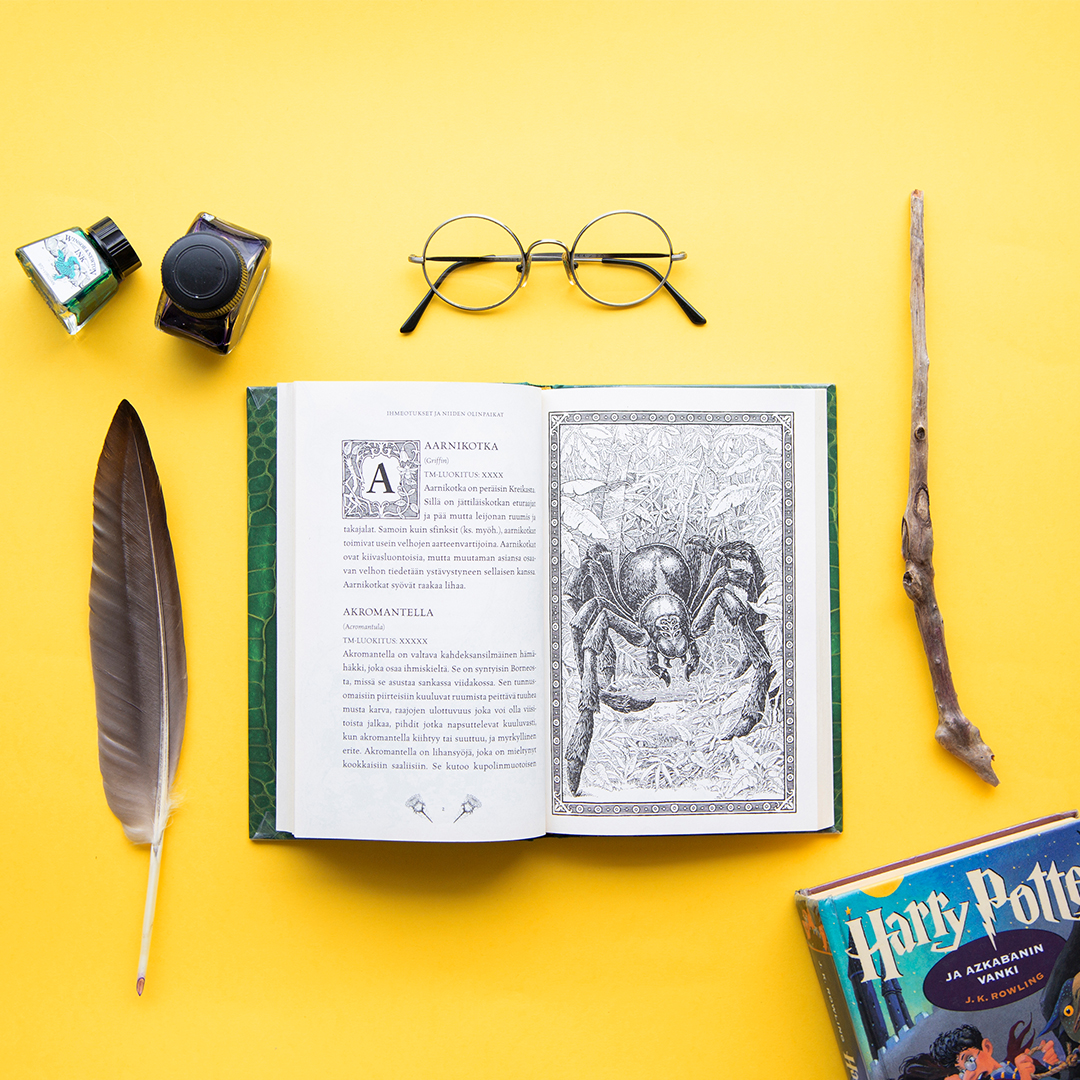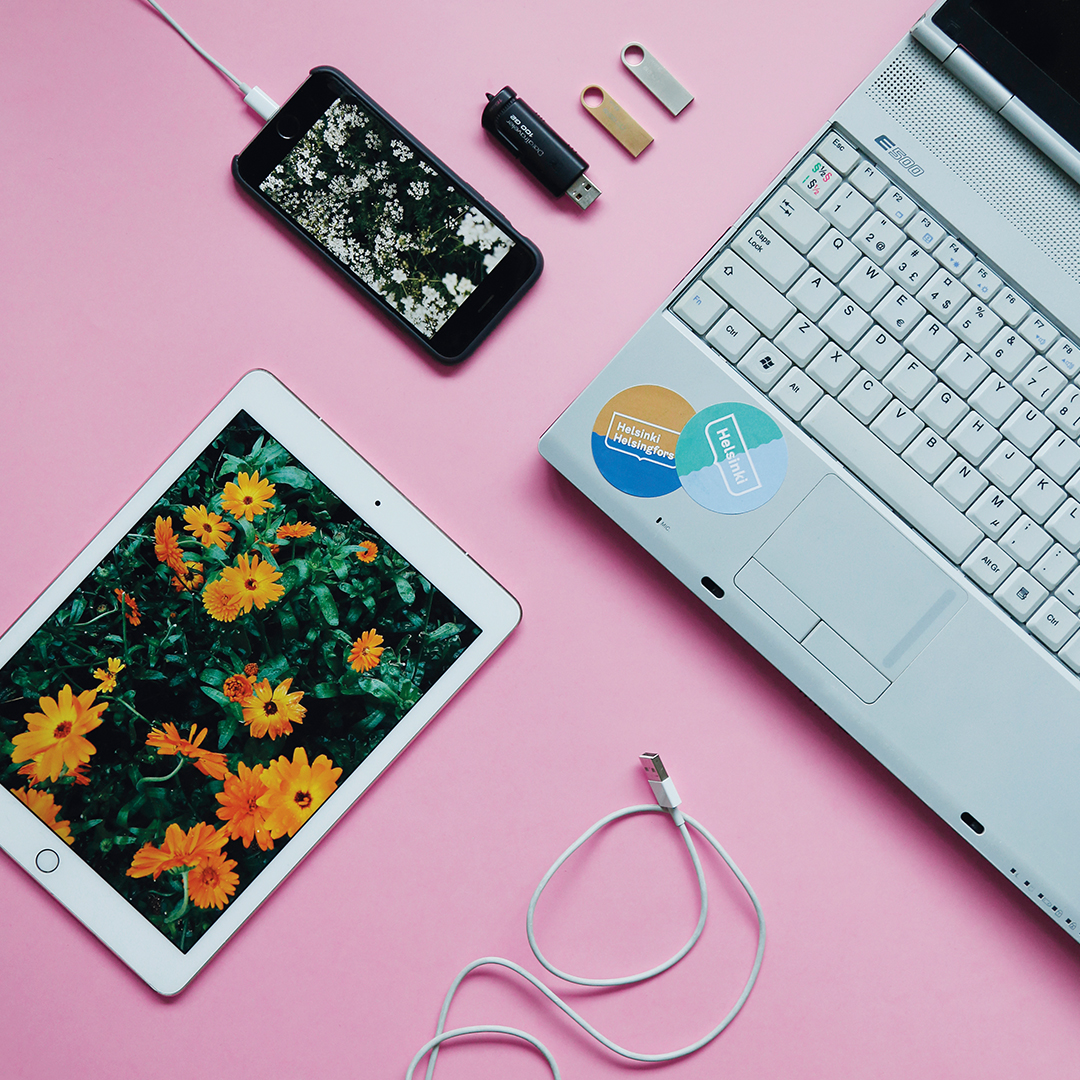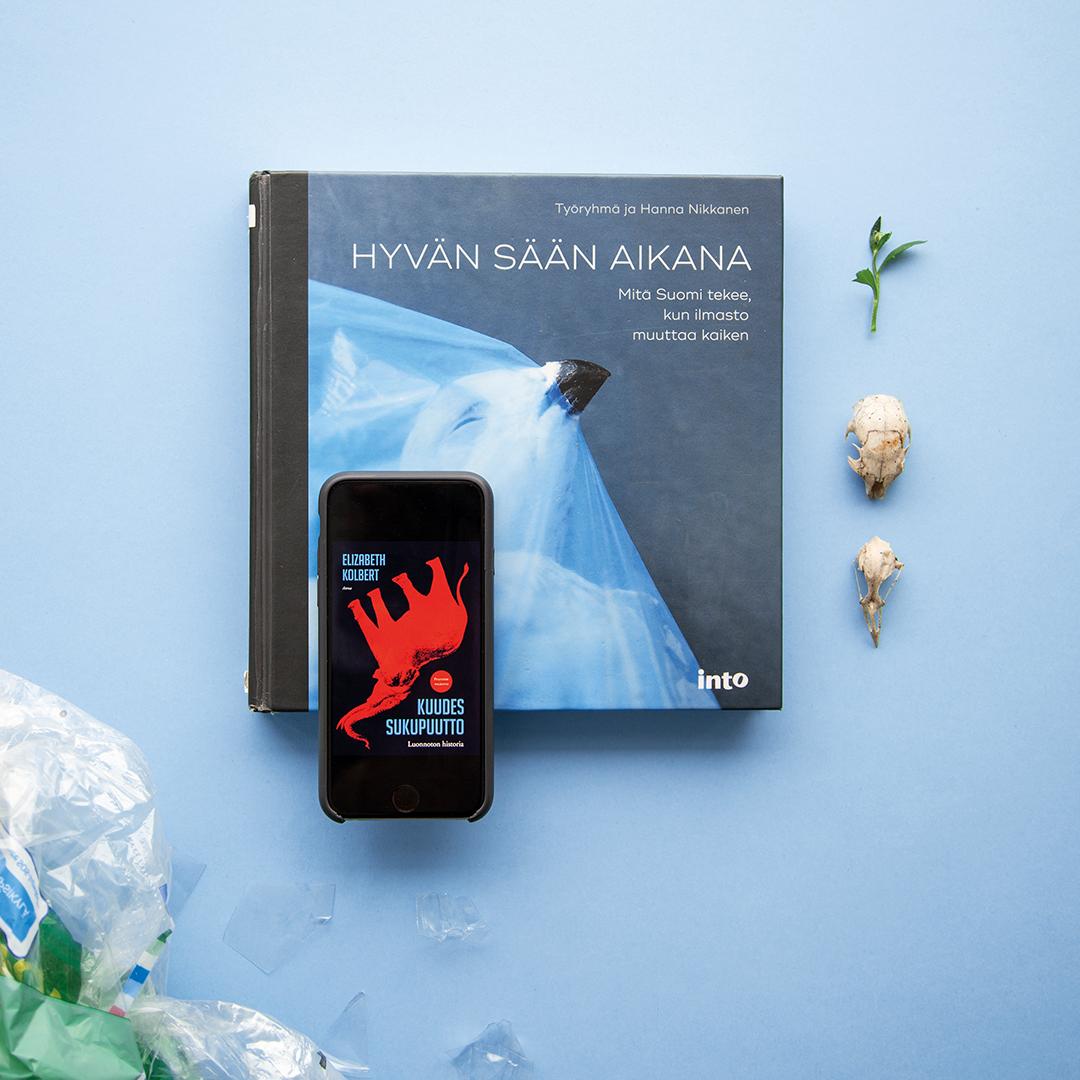 Photography for Helsinki City Library
Developing a style of decorative images for Helsinki City library, photography and styling. 2019.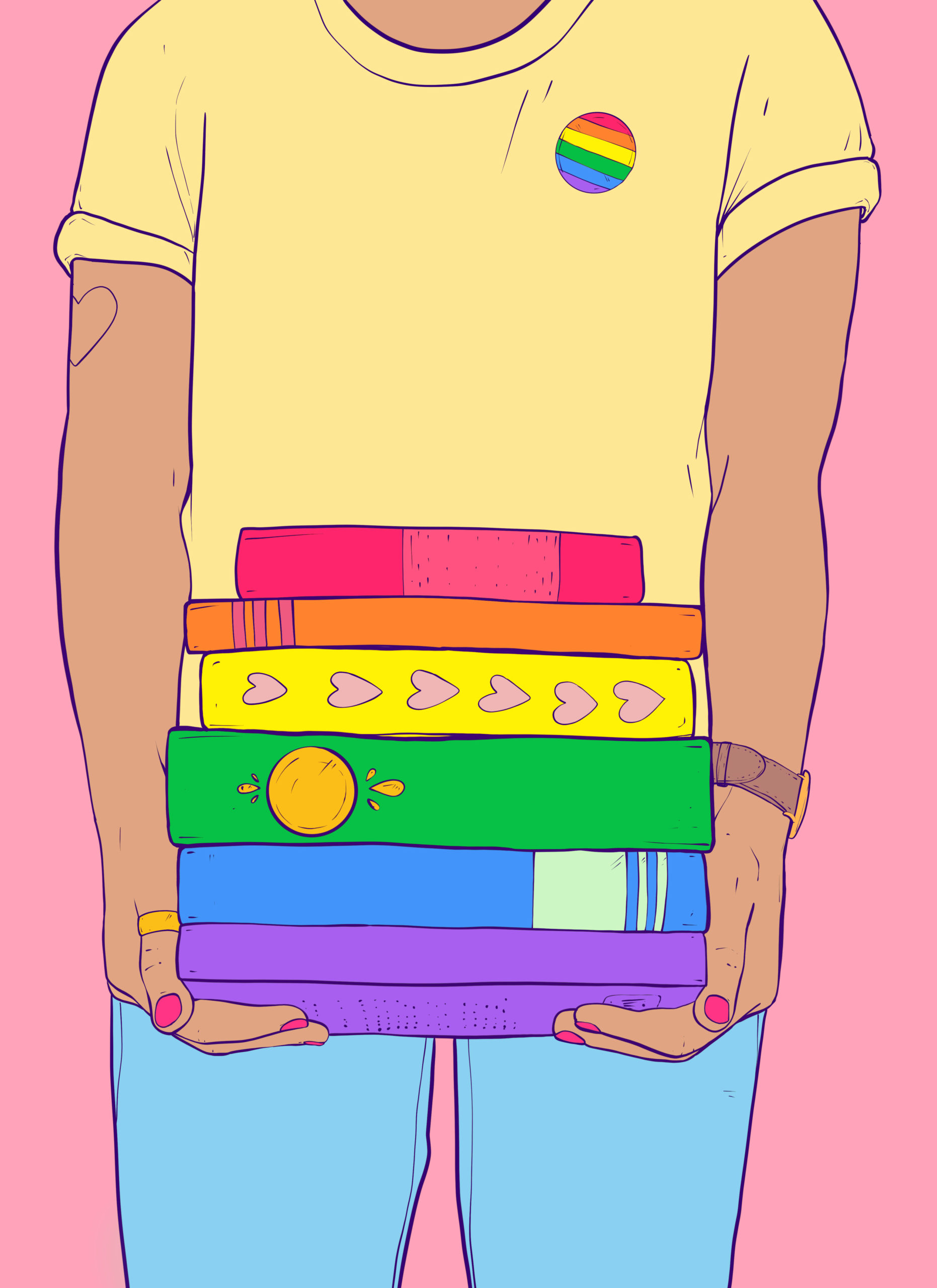 Queer Book Club
Digital illustration for Helsinki City Library. 2019.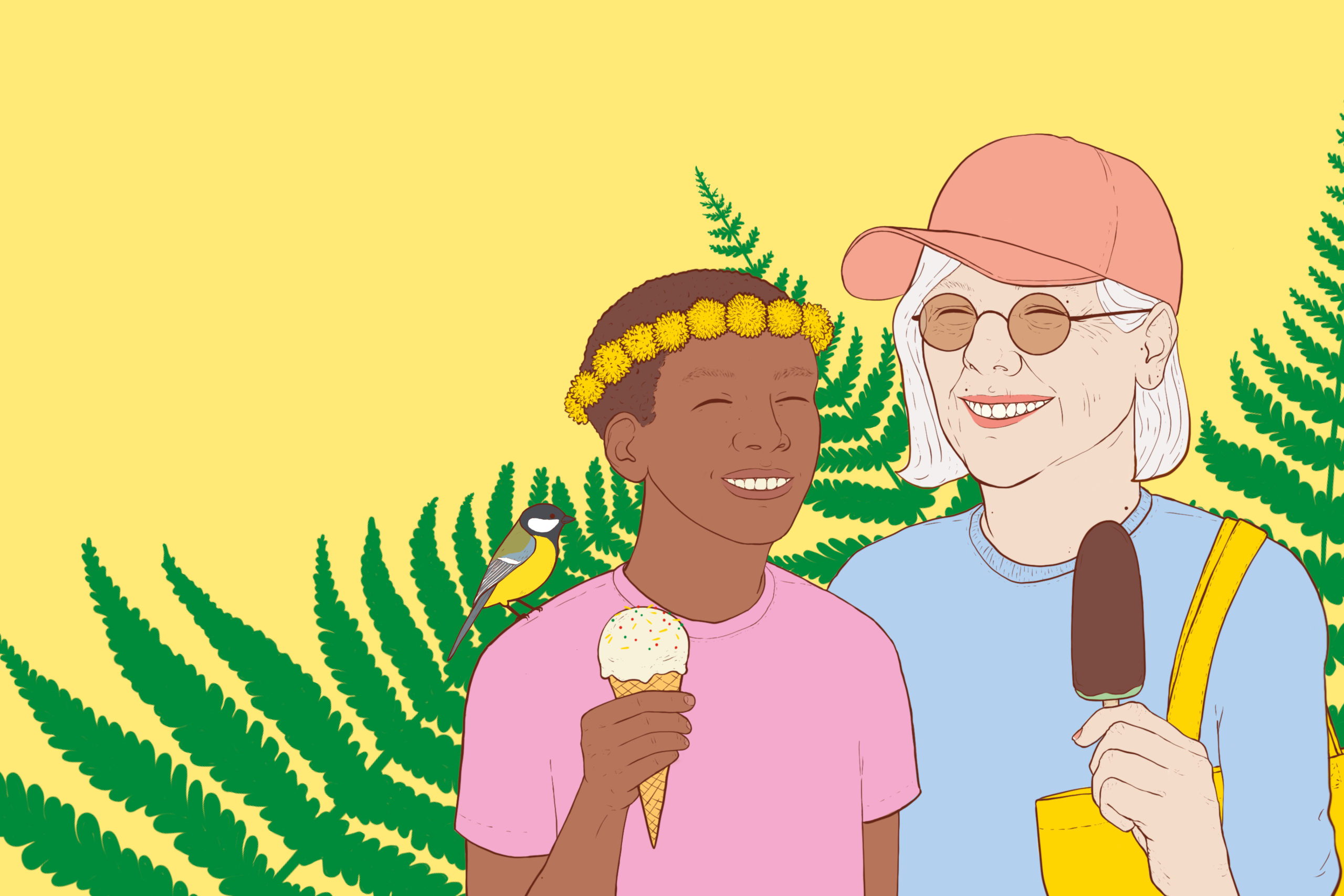 Summer Helsinkians
Digital illustration for the City of Helsinki. 2018.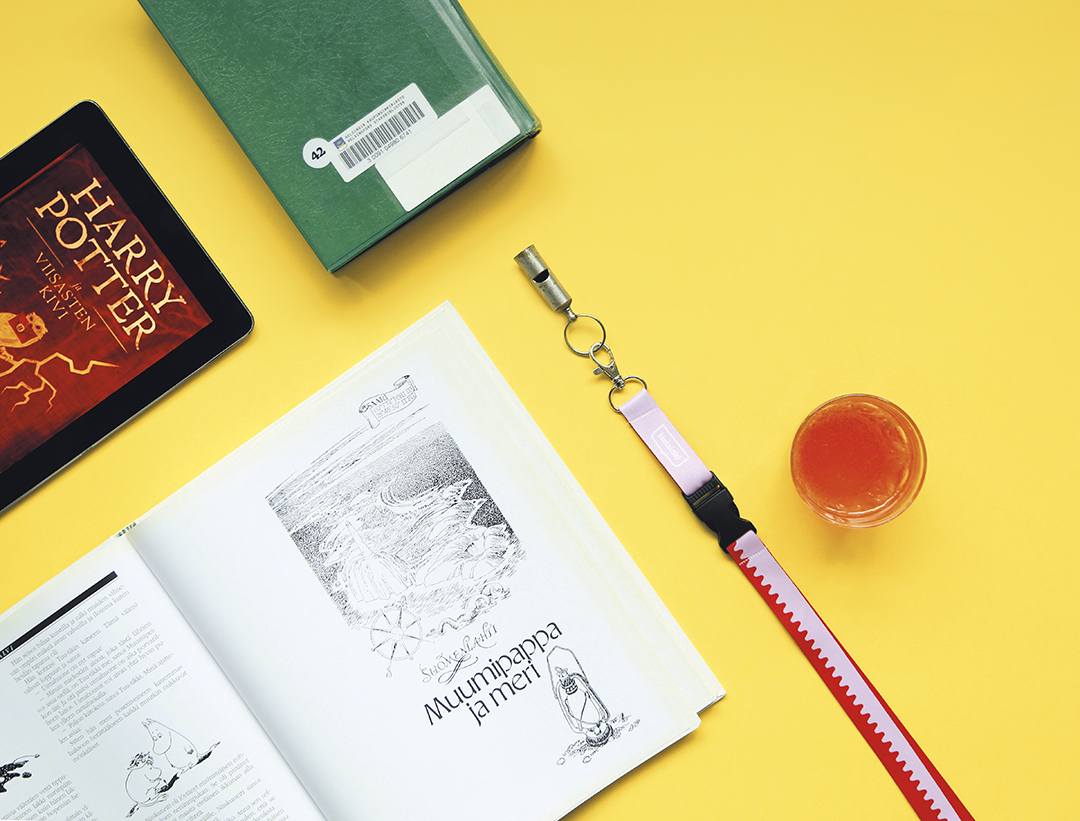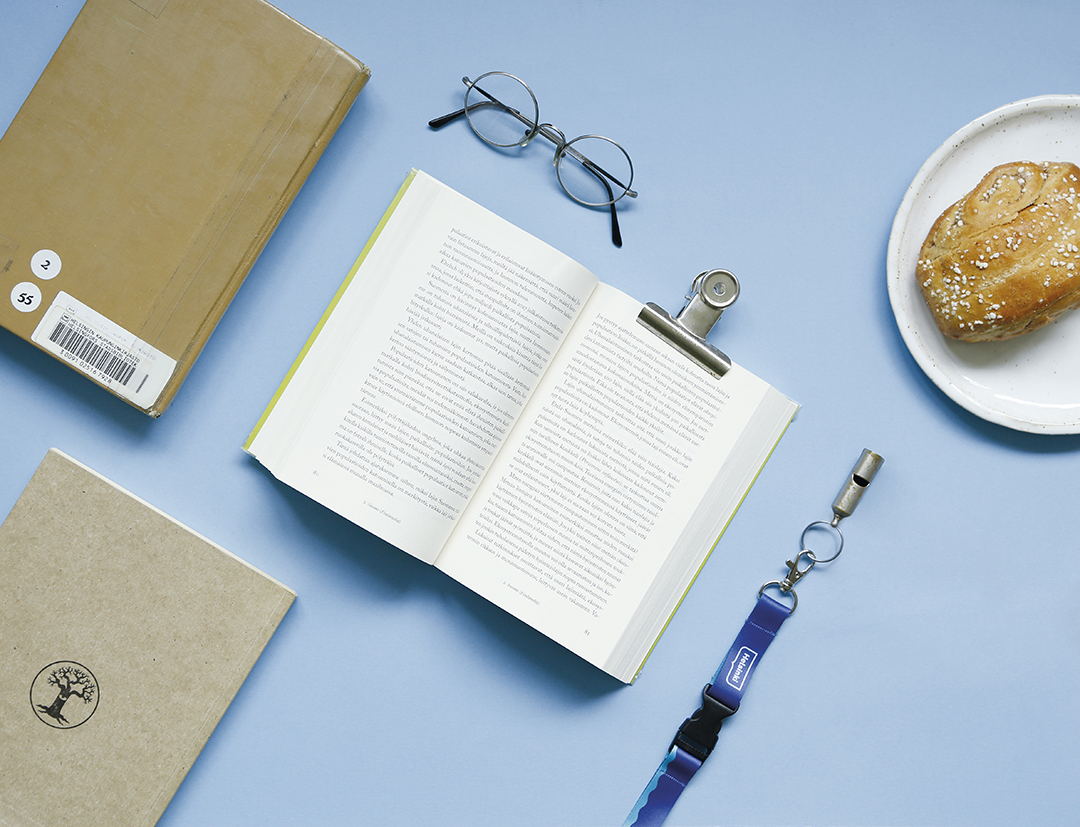 Reading Coach
Styling and photography for the Helsinki City Library Reading Coach and Reading Coach Junior services. 2019.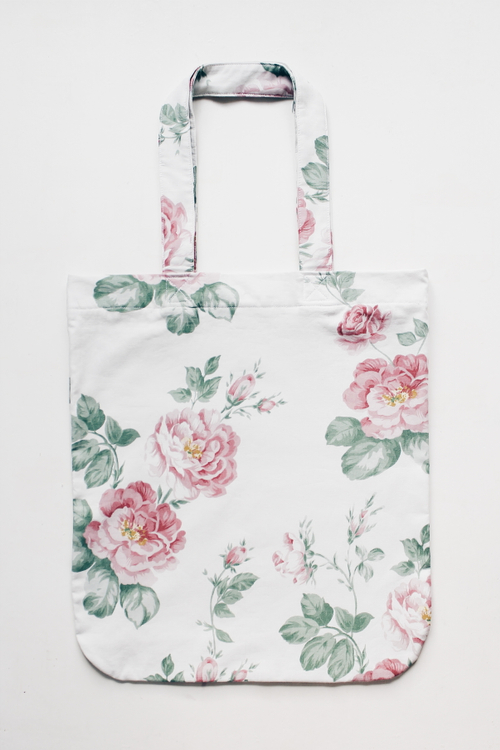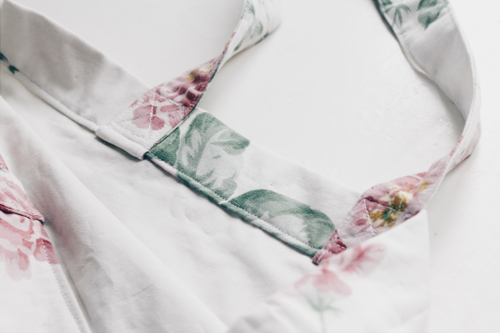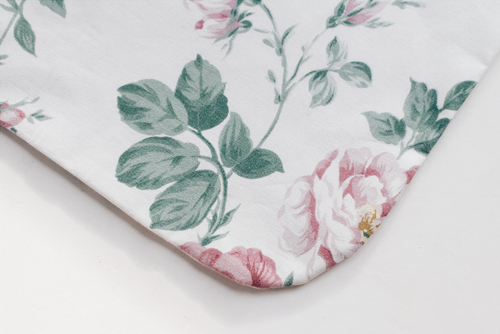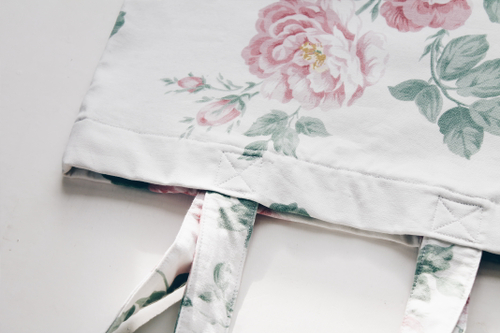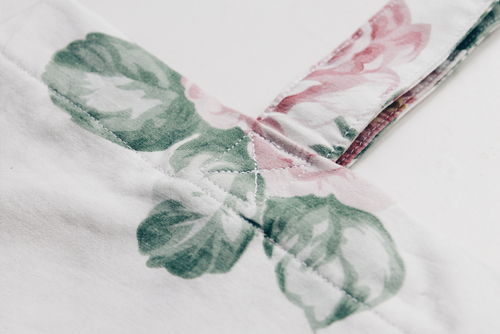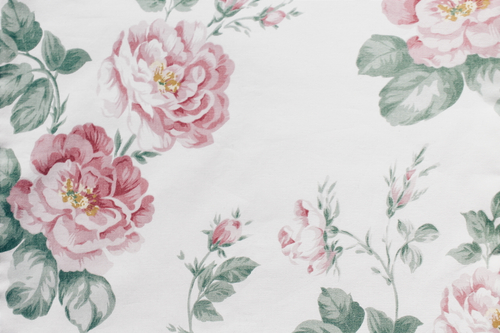 Floral bags
Sustainable product design, sewing, and product photography of floral tote bags made of repurposed fabrics with borrowed equipment, for Gentle Adventure. 2016.
With Amir Tahvonen.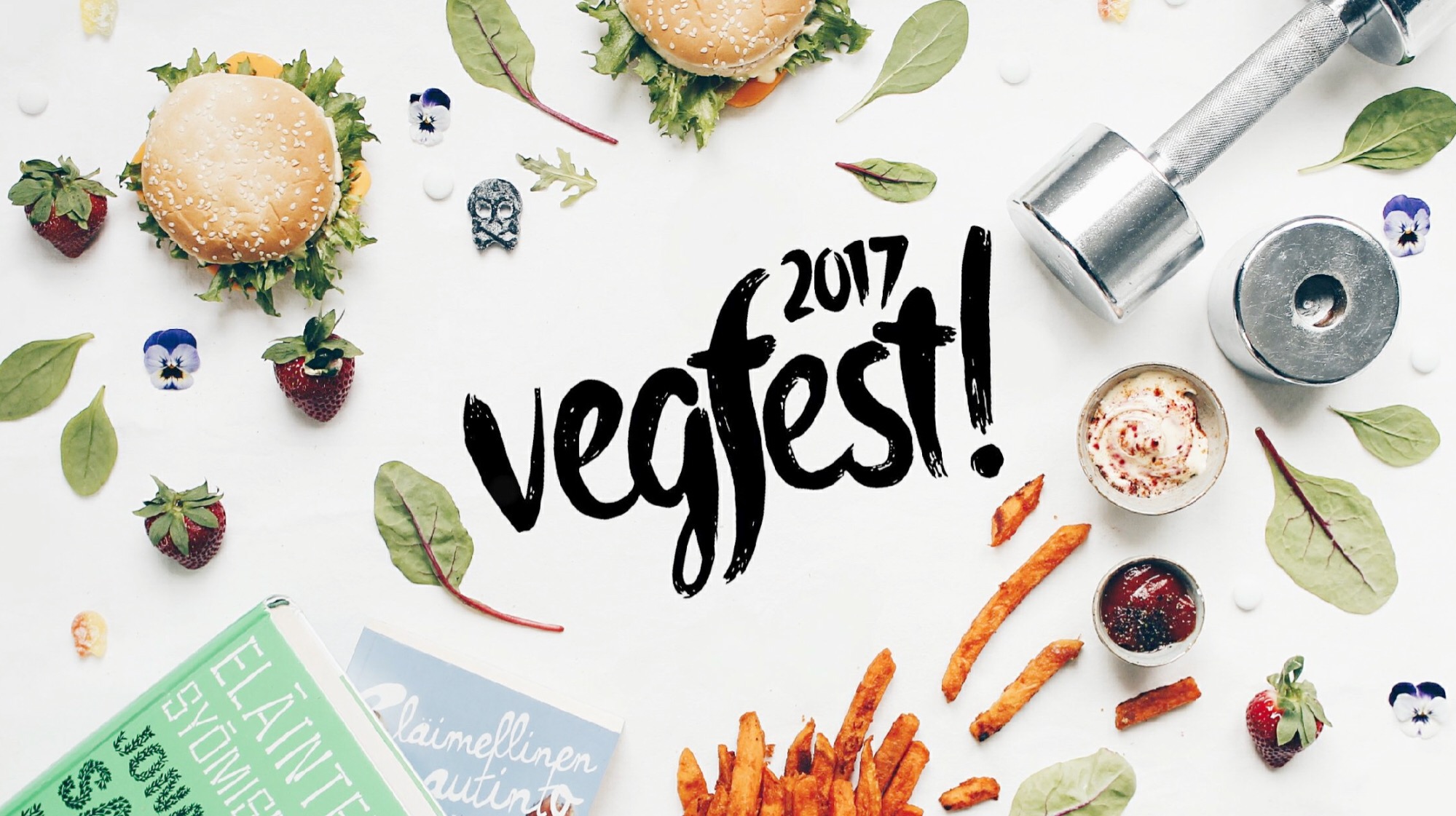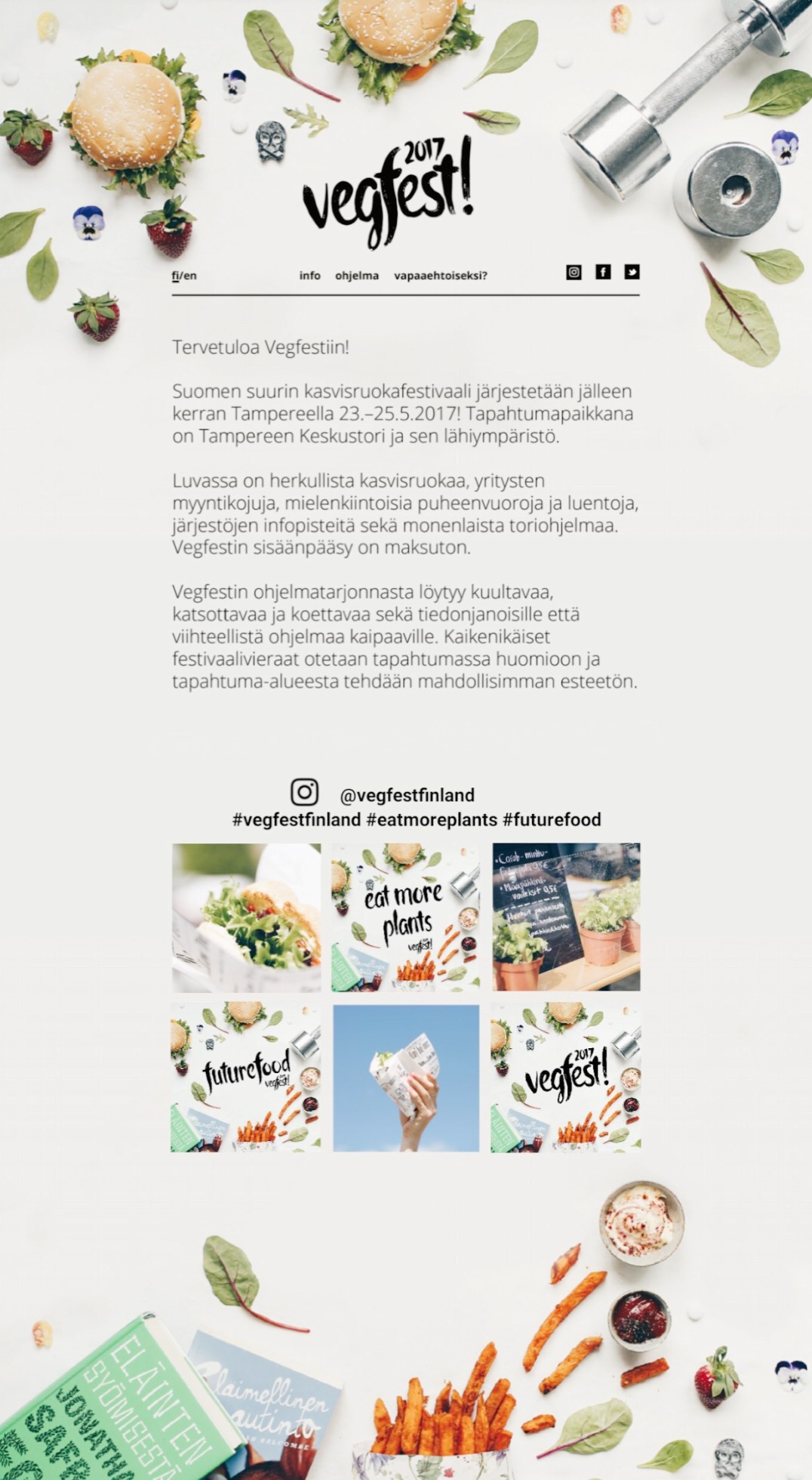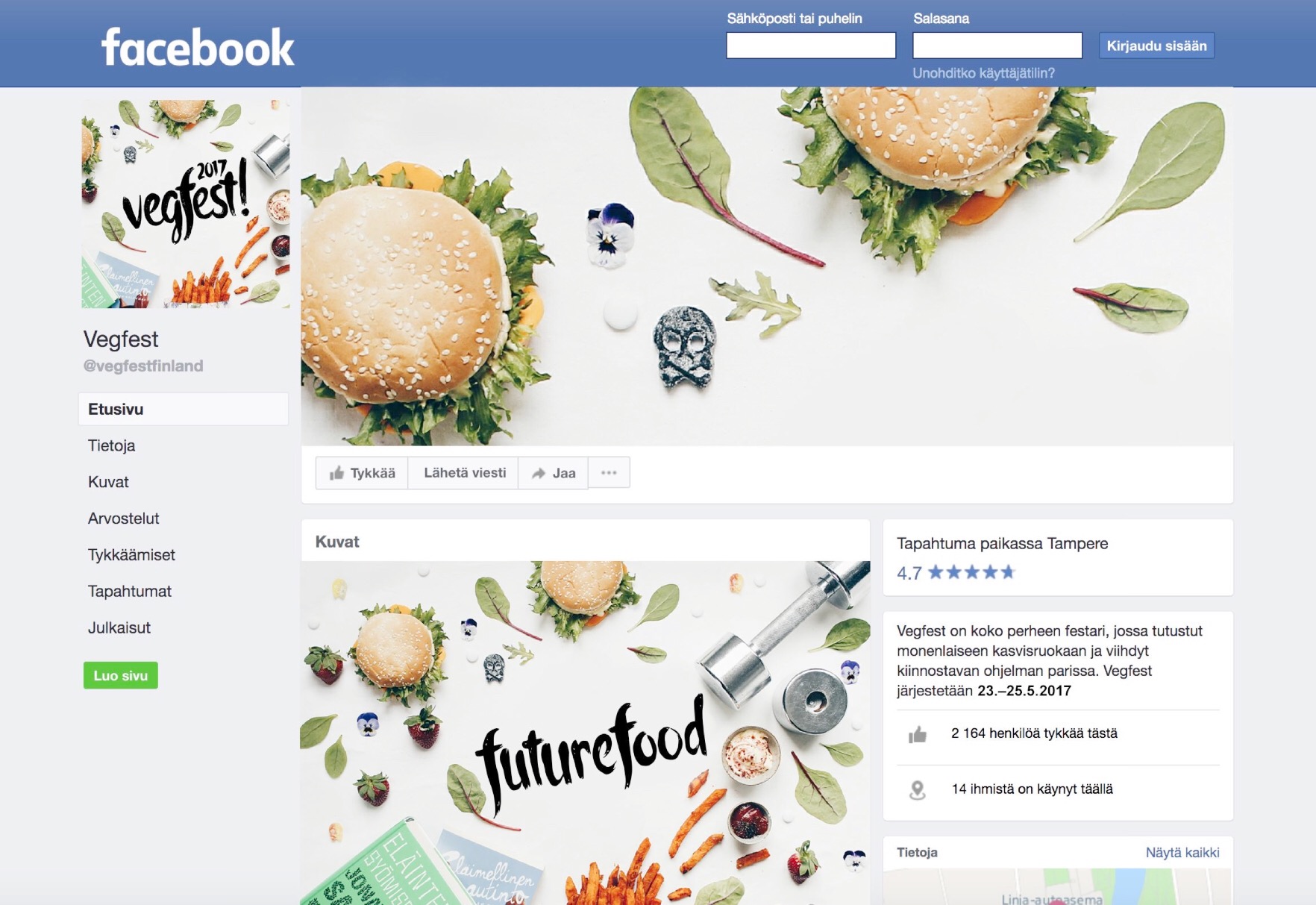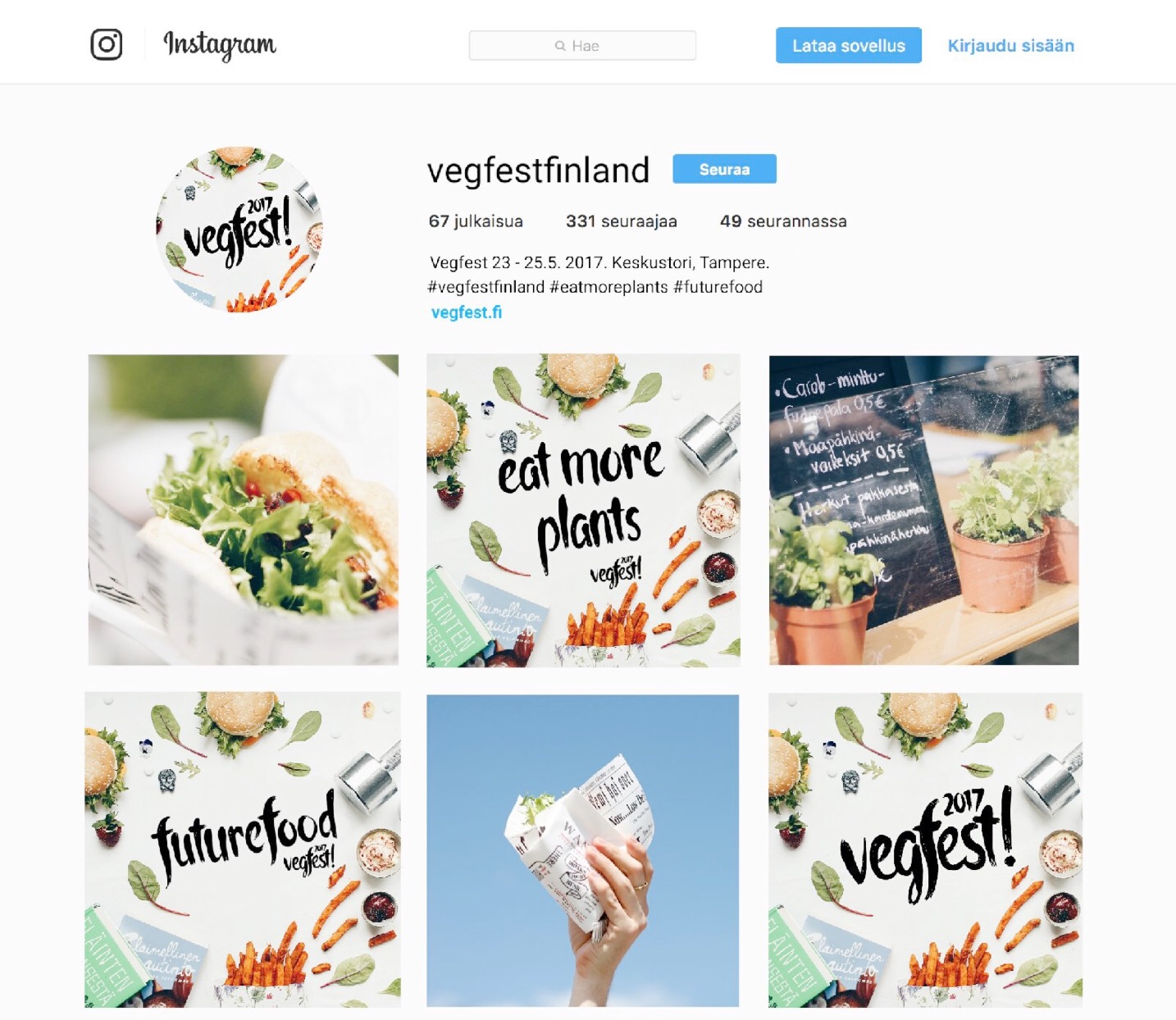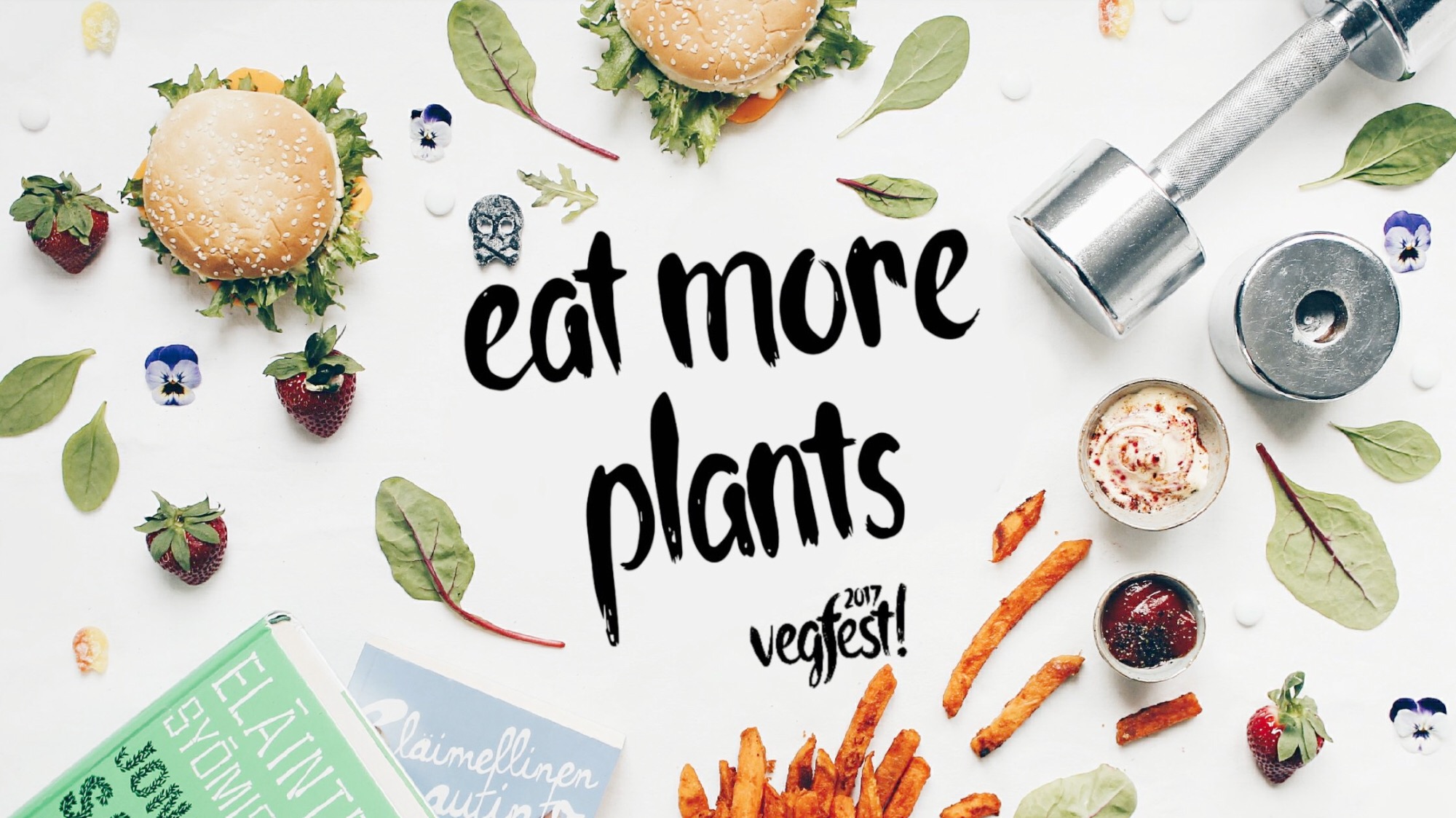 Vegfest
Visual identity suggestion for Vegfest, photography and digitally hand-drawn typography. 2017.
Arabia
Illustrations for Kuohu, based on real people and places seen in Arabianranta. 2014.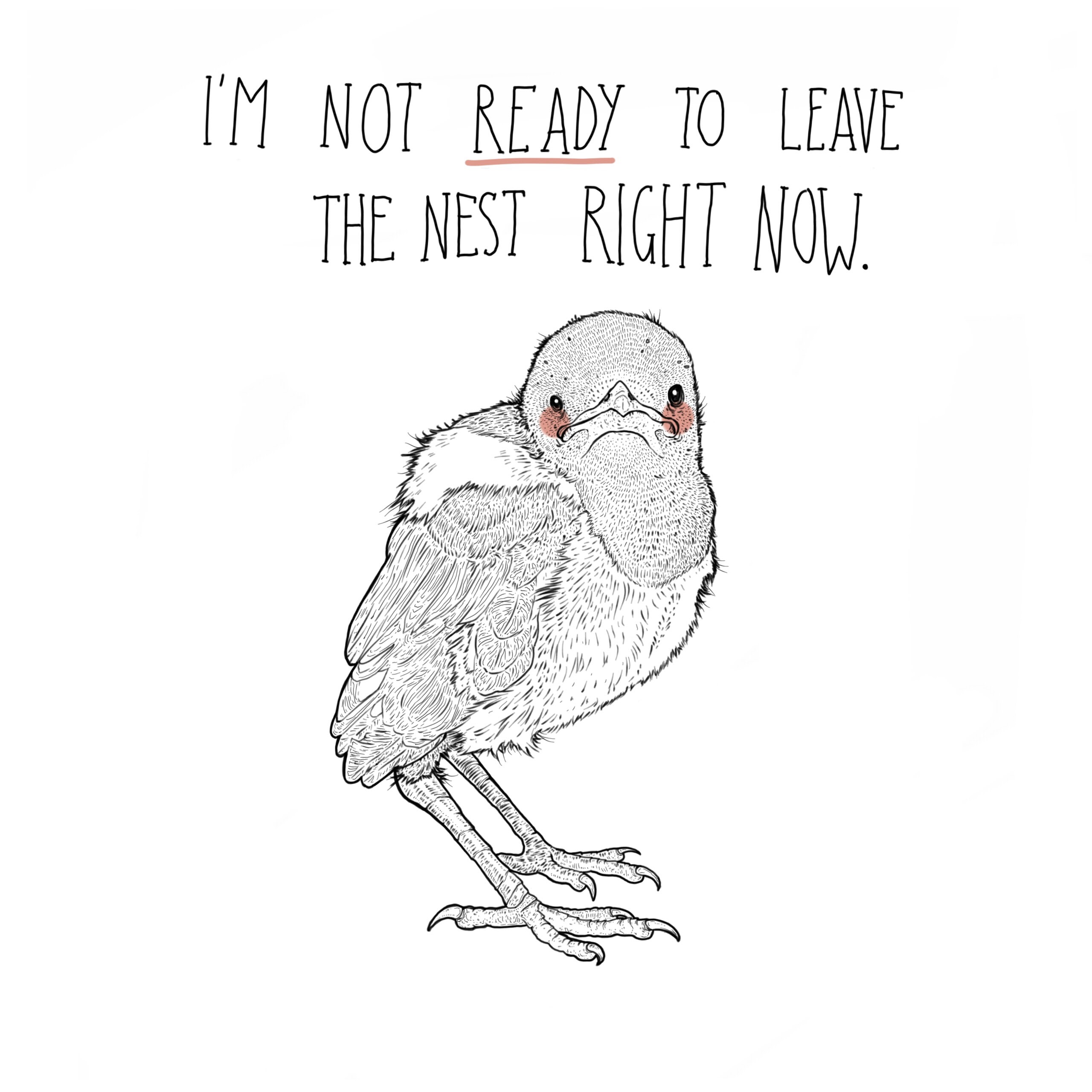 The Neophobic Magpie
Single panel comics. 2016–2017.
Risteily
Illustrations for a short story in Koululainen. 2015.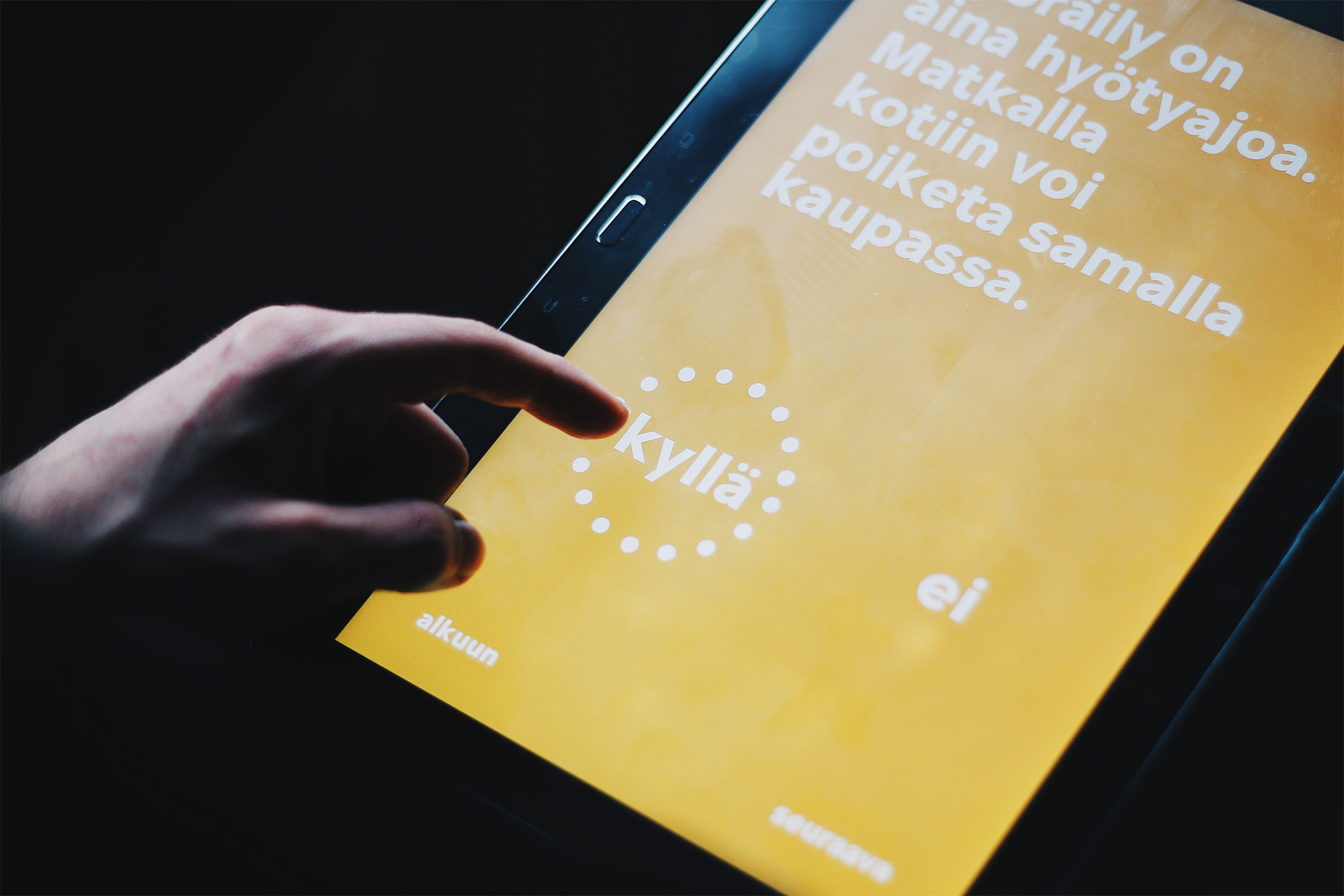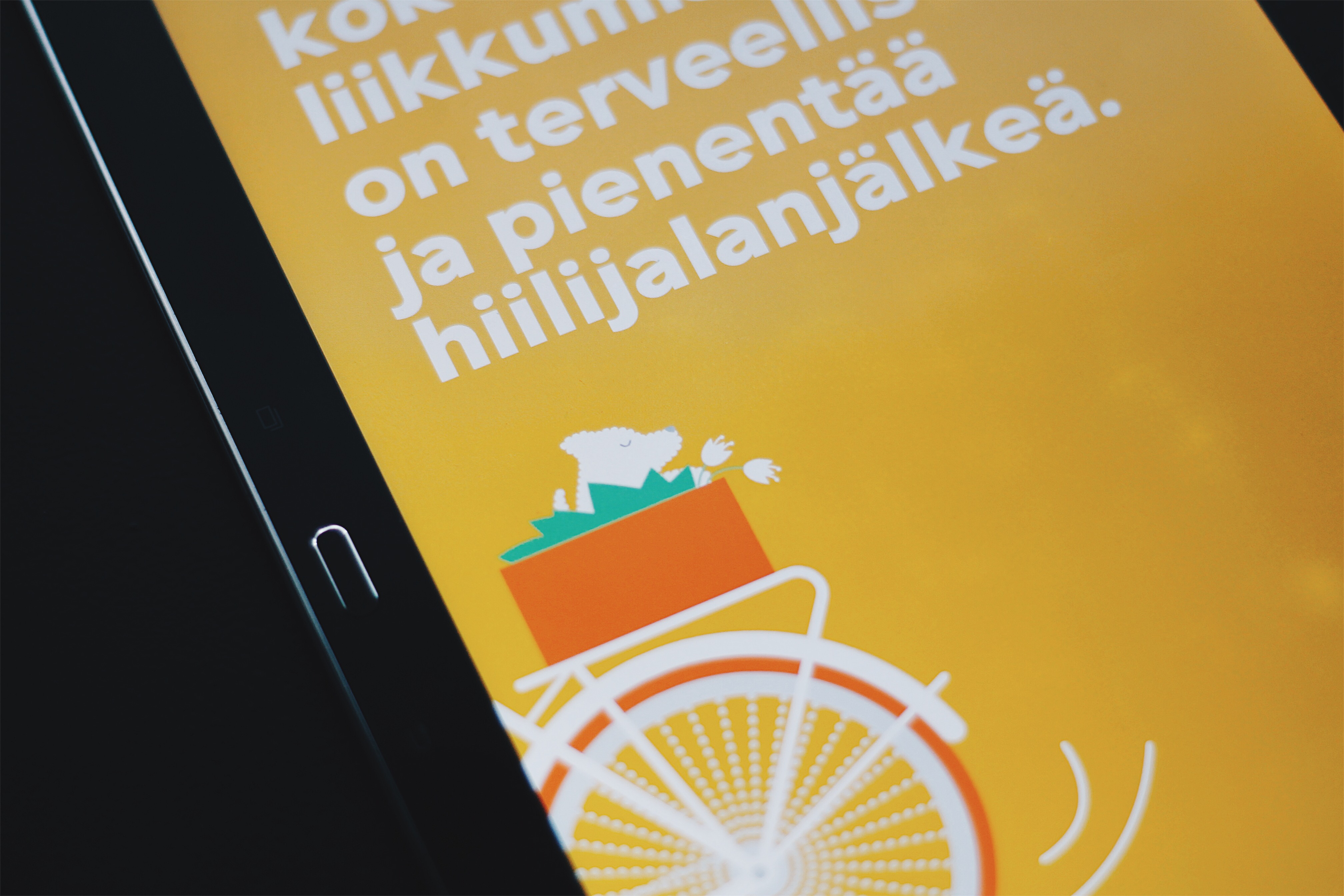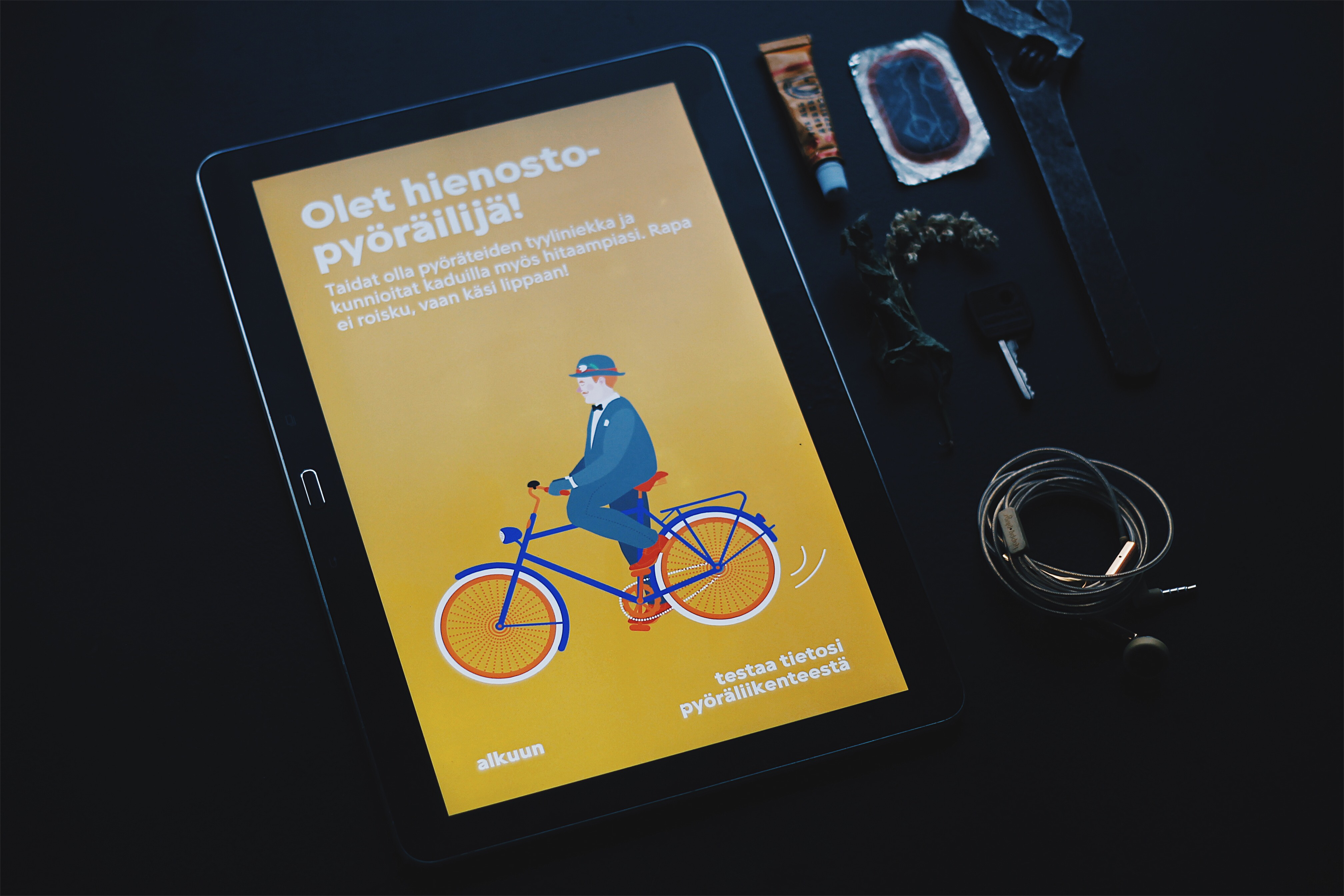 Bicyclers
Characters, vector illustrations, game layout & UX for HSL. 2016.